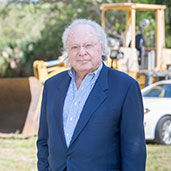 Heaton trial for mortgage fraud set for Feb. 20
STORY BY LISA ZAHNER

Attorneys for Vero Beach Hotel and Spa developer George Heaton and his co-defendants have been granted an extra two weeks to finish analyzing bank records in preparation for a Feb. 20 trial on felony mortgage fraud charges.
A federal judge allowed the extra time because the prosecutor requested it jointly with the defense – not because the U.S. Attorney's Office was unprepared for trial, but due to a serious illness in a key attorney's family.
Instead of starting the trial on Feb. 5 as scheduled, both sides are due to appear in court in West Palm Beach for a status conference on Feb. 14, with the expectation of starting jury selection on Feb. 20 before U.S. District Court Judge Robin Rosenberg.
In mid-December, Heaton's attorney said he had recently received documents the defense had been trying to obtain from Orion Bank and from the Federal Deposit Insurance Corporation and needed time to determine if and how those records might be useful.
Heaton, who developed the hotel with business partners, is accused of not accurately reporting millions of dollars in buyers' incentives that he is said to have refunded to buyers after the real estate closings on the condos, using different bank accounts and a West Palm Beach law firm to handle those "cash to close" paybacks.
Those reports, allegedly made on federal forms, characterized the cash provided by Heaton as part of the buyers' own downpayments, thereby inflating how much buyers had at risk.
Charging documents say four different banks relied upon allegedly false information when making up to nine separate mortgage decisions. Heaton's closing agent and his former bookkeeper are also charged with conspiracy and fraud and, if convicted, each faces up to 30-year prison sentences and millions in fines and restitution to the banks for losses incurred over the past decade.
Court documents say Heaton may try to shift the blame off of himself and onto the banks' loan decision-making due diligence – or lack thereof – presumably with the hope that members of the jury blame the financial collapse of 2008 and 2009 on widespread fast-and-loose banking practices.
An objection filed by the prosecution on Nov. 30, claiming that the defense lacked specificity as to what a banking expert witness named John Kovarik might testify to, stated, "The general tone of this purported expert's testimony strongly suggests an improper attempt to use the imprimatur of an expert to blame the mortgage lending industry, and distract the jury from focusing on the intent of the defendants.
"As the Court knows from previous litigation in this case, the defense plans to attack victim Orion Bank by attempting to introduce 'evidence that the subject loans would have been given without regard to any alleged false statement or material omission.'"
As the trial date approaches, the court has set deadlines for attorneys to submit final witness lists and proposed questions to pose to prospective jurors. Former clients of two of the defense attorneys are set to testify, so the court had to address with those attorneys how that would play out in open court.
The attorneys assured the judge they had a plan to handle the potential conflict of interest, while protecting client confidentiality.