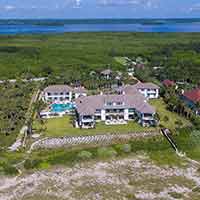 Largest estate on island is auctioned for $19.6 million
STORY BY STEVEN M. THOMAS

The largest house on the barrier island was auctioned off last week for $19.6 million, including a 12-percent buyer's premium added onto the winning bid of $17.5 million.
The nearly $20 million price placed the sale among the top three in the history of island home sales but was far below the MLS list price of $45 million.
"We were hoping for more," said Katie Lawless, a business development manager with Concierge Auctions who was in town for a month showing the sprawling 40,800-square-foot oceanfront estate to buyers from around the country and the world. "But we did everything we said we were going to do: We showed the home to more than 50 qualified buyers, delivered a strong field of competitive bidders, and sold the house on a date certain, which was the seller's top goal."
"The sale shows that there is liquidity in the very top end of the market and that people are willing to pay $20 million for a house in Vero," said Premier Estate Properties broker associate Clark French, looking on the bright side. "It also exposed a new group of high-end buyers to Vero Beach who didn't know about the town before."
The sale was Concierge's sixth auction in Vero in 2017. Unlike earlier auctions, there was no event at the house, which is located at 1940 S. A1A in the Estate Section of the island. Instead, bidding was by phone and online.
Lawless said with buyers for top properties scattered around the globe, onsite events don't usually make sense anymore. "Ninety-seven percent of our auctions are online now," she said.
Nine bidders, from China, Switzerland, the U.K. and the United States, participated in the auction, including several local families.
The auction opened at 4 p.m. on Thursday and the first bid of $6 million was placed three minutes later.  The global sale was held open for 26 hours to accommodate bidders in far-flung time zones. During that period, 11 more bids pushed the price up in million-dollar increments to $17 million.
The winning bid of $17.5 million was placed at 6:02 p.m. on Friday evening by a buyer designated bidder #2995, who had offered $9 million the previous evening.
Concierge declined to identify the buyer or say where they are from, but did say they had visited the house prior to the auction. French said some international buyers did not visit, sending relatives, wealth managers or other representatives in their stead.
The seller was Robert Allen McGuire Jr., according to county property records.
French and his partners Cindy O' Dare and Richard Boga were the local listing agents for the property and they also brought the buyer, earning a double commission on the substantial sale.
Situated on a 7-acre parcel with 315 linear feet of Atlantic Ocean frontage, the 18-bedroom, 27-bath house was custom built for McGuire by Joe Foglia of Foglia Custom Homes and Vic Lombardi of JV Enterprises, two leading local builder/developers who have partnered on a number of projects.
Constructed with luxury finishes and the latest smart-home technology over a period of two years and completed in 2015, the main house and guest houses encompass 27,588 square feet of air-conditioned living space and nearly 41,000 square feet under roof.
"It was a lot of fun to build," said Foglia, prior to the auction. "It was dream job for a very good client who made timely decisions and is a really good guy. There is nothing else that large on the Treasure Coast. You would have to get into Palm Beach to find something comparable.
"There are four kitchens, four elevators – including one commercial grade – and a 25-person movie theater. The pool is extraordinary. An average pool is 450 square feet. That one is 10 times as large, with a surface area of 4,500 square feet and a capacity of 186,000 gallons.
"Just in terms of size and scale it is an incredibly impressive place."
When he decided to sell the property, McGuire listed it for $45 million with French and his partners in November but did not aim for a traditional sale, going straight to the auction model instead.
"It takes an average of 1,000 days to sell a home priced at $10 million or more," said French. "Because of that about 20 percent of Concierge's clients go straight to auction to avoid the long delay and carrying costs and uncertainty. They don't have to put their lives on hold and have showings at inconvenient times."
"Our clients at that level are action driven," said Foglia. "They didn't get to where they are by being passive and waiting for things to come to them. They went out and grabbed it."
That said, McGuire, who was not available for comment, likely lost millions on the deal, selling for much less than the home and land cost him.
The auction was "no-reserve," which means once it started, the estate would be sold to the highest bidder regardless of the amount of the high bid, but McGuire could have declined to hold the sale if he was not confident of an outcome he could accept.
"We reviewed the field of bidders and discussed their qualifications and intentions with the seller, and he gave us a green light to proceed," French said. "We had a strong field of nine buyers who wanted the house and had the resources to buy it on that day."
Bidders had to put down a $100,000 deposit and show proof of funds to participate and the winner had to immediately execute the purchase contract, put down another $2 million and close within 30 days.
"It was a business decision on the seller's part," said Lawless. "He wanted it sold this year on a date certain and we accomplished that."
That the auction model has appeal to many buyers was shown last week when Concierge sold five other homes in the U.S. and abroad on the same day that 1940 S. A1A was sold.