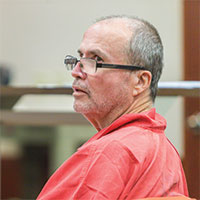 Man charged with island murder struggles as own attorney
STORY BY BETH WALTON
Photo: Asbury Perkins II in court.

Money is just one of the many problems facing a former island resident accused of murdering his estranged wife in 2015 because, according to him, she nagged him too much and took money from a joint bank account.
Asbury Perkins II, who has chosen to act as his own attorney and has been found indigent by the court, struggled Wednesday to adequately prepare his defense for trial.
He won a victory when Judge Cynthia Cox granted his motion for temporary leave from jail to conduct depositions in his case, but the permission may not do him much good since he doesn't have the ability to schedule deposition appointments from his county jail cell.
Cox gave Perkins permission to question his former public defender, a prosecutor and the attorneys who represented him and his wife during previous disputes, but she wouldn't allow his investigative team to schedule appointments on his behalf, at least not on the taxpayer dollar. 
"They are investigators, they are not secretaries," Cox said. She advised Perkins that he could pay for the service himself.
The problem there is that Perkins, 59, has no money and has been declared indigent by the state.
He was taken into custody November 2015 after authorities found him at the home of his wife, Cynthia Betts, on Seagrape Drive near the Moorings with her dead body rolled up in a rug, according to an affidavit for his arrest.
Someone had shot the 63-year-old woman four times, Detective Ross Partee wrote in the report. There appeared to be gunshot wounds in the back of her head, in her eye, in her chest and in her back. The woman had been dead for at least 24 hours, one sergeant estimated.
There was a blood trail between the laundry room and a bedroom and a loaded .38 caliber revolver in a dresser drawer. "Perkins advised that he was going to put Cynthia Betts' body in the trunk of her car and then drive it into a lake, but there were complications with his plan," Partee reported.
Perkins told police he shot his wife because "she took money out of their banking account without his knowledge and because she continually nagged him," documents allege.  He later pled not guilty to first-degree murder. Court documents suggest he is planning an insanity defense, claiming his wife's behavior drove him crazy.
The couple's rocky marriage had violent run-ins as far back as 2008, court records show, but the two were still 50/50 partners in a home-based business called Target Electronics, which marketed products to the military.
Allowing his state-hired private investigator Pedro Fernandez-Ruiz to make deposition appointments will make preparations for trial more efficient, said Perkins, who has been held at the Indian River County Jail without bond for nearly two years. They have better access to technology like email than he does at the jail.
Cox declined his request. The company was approved for payment for investigative purposes only, such as locating potential witnesses, she said. The Justice Administration Commission sets strict guidelines for how vendors can be paid.
Perkins then inquired how best to schedule his depositions from jail, even, at one point, turning to the prosecution for help. Assistant State Attorney Chris Taylor had previously offered to set up a telephone deposition for the defendant.
"I changed my mind, judge. Let him schedule it," said Taylor, appearing exhausted by Perkins' lengthy and unorganized pretrial arguments.  "And if he can't, that's the break for representing yourself."
Later, when Perkins asked for the return of $1,600 he said deputies found in his home at the time of his arrest, the judge joked he could use that money to hire a clerical aide.
Prosecutors fought against the release of the funds, arguing that there was a high probability the money belonged to the deceased.
At the time of his arrest, facing previous DUI and domestic violence charges, Perkins had already been declared too poor to afford his own attorney. The couple's South Beach home had been quit-claim deeded over to his wife and Perkins had given her Power of Attorney for personal and business matters.
This is not a civil court, said Taylor. A criminal felony court is not the place to adjudicate a probate dispute. The prosecution also intends to use the money as evidence, he added.  "It will be used to show motive."
Cox again declined Perkins' request. "I have read the arrest affidavits and there are allegations that money was a motivation," she said.
Perkins then complained that the victim's family sold the couple's property and he hadn't seen any of the funds, not even $5,000 he says he is owed.
The island home in the 2100 block of Seagrape Drive was sold for $735,100 in August 2016, some nine months after the murder. Proceeds went to a personal representative of Betts.
Betts' Last Will and Testament bequeathed nearly all her worldly possessions to her brother in New Jersey, or as a backup, to her father. Should Betts perish, the will stated, Perkins was to only receive $5,000, some "household goods" and his wife's Volvo station wagon.
Perkins spent the remainder of the 1-hour hearing Wednesday asking the judge for help locating and paying for access to public records. He said he was confused how to get cellphone and 911 call data and how to enforce earlier court orders. He said he needed a computer forensic expert.
"I can't be your attorney, sir," Cox said, approving an additional 75 hours of work for his investigative team.  "Let them do their job.  I don't want to delay this case any longer."
Taylor told the court the prosecution had given the defendant a flash drive of evidence he was entitled to as part of discovery. He also reminded the judge that public entities have the right to charge for public records. "If he doesn't have the money, that's his problem," he said.
Perkins is due in court again in December. A trial date has not yet been set.