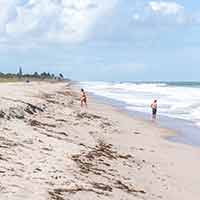 Shores seeks 'critically eroded' designation for its beaches
STORY BY LISA ZAHNER

Beaches in the City of Vero Beach have been deemed "critically eroded" by county engineers and state officials and are in the county's beach restoration plan for a major project in late 2018 or early 2019, and Indian River Shores wants its southern beaches – which in the past few years have been losing ground – to be viewed with the same urgency.
The county's northern beaches from Windsor to the north end of John's Island have been bolstered by massive dumps of mined, upland sand twice in recent years, partially paid for by state documentary stamp fees and partially from sales tax revenues and other funds from Indian River County.
That area, called Sector 3, also benefits from drifts of sand that are placed periodically by the Sebastian Inlet District to mitigate sand loss from the inlet's jetty. Vero's beaches, called Sector 5, are next up for large-scale beach replenishment and will be ranked and considered as part of the Florida Legislature's next budget cycle in 2018. The area in-between is what Vice Mayor Michael Ochsner and John's Island residents are worried about.
That area, termed Sector 4 in the county's published beach plan, runs from John's Island south to the Vero city limits, and Ochsner said recent technical data shows that stretch of beach has lost sand faster, comparatively, than other beaches in the county over the past 15 years.
"Sector 4 has historically been a stable to accretional beach.  However since 2002 the shoreline has trended towards erosional.  This is in part from multiple impacts from hurricanes between 2004 and 2017," said County Coastal Engineer James Gray. 
Ochsner and Councilman Bob Auwaerter have been working through the county's Beaches and Shores Preservation Committee to get that stretch of shoreline declared critically eroded. That would put the Shores at least in the running to compete for state funding with all the other coastal areas in Florida that also need sand. Beach replenishment projects often span years and cost millions of dollars.
"If any money is available, at least we would have a shot at it," Auwaerter said.
Ochsner said there are plans to update the status of the Shores' southern beaches when the county revamps its overall beach strategy document in two or three years, but he wants it declared critically eroded sooner rather than later.
The Shores' standing argument with regard to beach sand – though detractors of engineered beach projects say it's a waste of time and money – is that Town residents pay an awful lot of taxes to Indian River County and, because the vast majority of the roads and facilities within the Shores are privately owned and maintained, about the only thing Shores residents get for their tax dollars is the occasional dump of beach sand to protect their high-end properties from erosion.
Until those state and county dollars come through, private property owners can apply for permits from the Florida Department of Environmental Protection for emergency dune repairs after a hurricane, and many did just that after Hurricanes Matthew and Irma.
The catch is those residents or condos or homeowners' associations must pay for the engineering, the permitting work, the sand, trucking and labor themselves. Putting sand on the dune is not as environmentally sensitive or laborious as dumping sand on the beach itself where sea turtles nest and there is a greater risk of washout onto the near-shore reef commonly referred to as the "hard bottom."
John's Island applied for a dune repair permit and, according to John's Island Property Owners Association President Jim Moller, plans to begin placing 64,000 tons of dune-compatible sand on its shoreline in early 2018.
Moller said John's Island and its consultants would work with the town to achieve the "critically eroded" designation, as the club has already paid for the surveys and engineering work needed to obtain the permits to shore up the dunes.