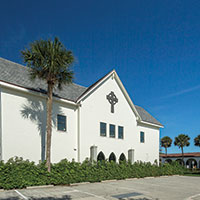 St. Paul's Church still not quite ready
STORY BY RAY MCNULTY

The new St. Paul's Church, currently nearing completion on Flamevine Lane, will not be ready for Christmas Day services and probably won't open its doors to worshipers until early 2018.
St. Paul's Rector Jon Robbins was planning to welcome congregants to the new sanctuary on Oct. 8, but delays in the final phases of construction – some caused by Hurricane Irma – forced him to push back the scheduled date of the first service to November.
But delays continue to plague the project, located just west of Ocean Drive in the Central Beach business district.
"We are working hard to get the church open," Robbins wrote in a text to Vero Beach 32963 on Sunday night. "We hope to have a Certificate of Occupancy before Jan. 1."
Robbins refused to comment on the latest delay, other than to say it had nothing to do with parking – a now-resolved issue that prevented the church from acquiring the initial permits it needed from the building division of the county's community development department.
"We're complying in every way with the parking requirements outlined in the [county building] code,"  Robbins wrote.
So what obstacle is preventing the church from getting a final approval from the county?
Scott McAdam, a county building official, said he found nothing out of the ordinary in the project's paperwork.
"I don't see any red flags," McAdam said. "I don't see anything in our records that shows any issues that would cause any delays in getting the CO. There's nothing here that points to any difficulties. It looks like things are moving along and construction is getting close to the end.
"I'm not too familiar with the specifics of this particular project, so maybe there are some other issues I don't know about," he added. "But based on what I'm seeing here, it looks like they're getting there."
Robbins said work on the new church came to a halt as Hurricane Irma passed through the area in September, shutting down construction for more than a week.
"Whenever you have a storm like that, it puts pressure on your supply chain," Robbins said in September. "It also affect the subcontractors, who get offers to do work elsewhere at a higher rate. We're having some infrastructure issues, too."
Robbins held a groundbreaking ceremony on the site in May 2016, after the church finally secured a shared-parking agreement with a neighboring business, the Amalgamated Realty Corporation.
The church has room for only 20 parking spaces on its property, but the agreement provides enough parking to accommodate its 150-seat sanctuary. The 6,500-square-foot, two-story building also will include administrative offices and classrooms on the second floor.
St. Paul's has "just over 100 members," Robbins said, but not all are regular church-goers. He said church leaders and members of the congregation are "sensitive" to the concerns of their beach business district neighbors.
The St. Paul's ministry was established five years ago with Robbins as its rector – the Anglican Church's title for pastor – and held services in a conference room at the old Surf Club Hotel until it was torn down.
The church then moved its services to the Garden Club of Indian River County, where they are expected to remain until the new building is completed.
St. Paul's had been seeking a permanent home for more than a year when a donor stepped forward during the first half of 2014 and gave the church the $1 million it needed to purchase the then-vacant property at 969-999 Flamevine Lane. The sale was completed in July 2014.