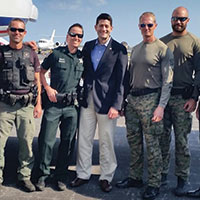 House Speaker pays a cash call to our island
STORY BY LISA ZAHNER
Photo: House Speaker Ryan and security escort at conclusion of visit

Republican politicians know our island is a lucrative as well as warm place to visit in the winter, and House Speaker Paul Ryan did just that last week to raise money for his PAC.
Ryan flew into Vero Beach Regional Airport last Wednesday where he met up with members of the Indian River County Sheriff's Office, who assisted Ryan's Capitol Police security detail while the Speaker was in town.
After spending the night at the Vero Beach Hotel & Spa, Ryan on Thursday morning met for a couple of hours with supporters at the John's Island Club, then motored a half dozen miles up A1A to Windsor, where John Childs – a major Republican bundler – hosted a $10,000-a-head fundraiser.
Ironically, over the past few years, one of Ryan's predecessors as speaker, Rep. Nancy Pelosi, has been an occasional weekend Windsor houseguest.
Ryan's office in Washington, D.C. does not have a live person manning the phones, only an automated voicemail system. His communications staff did not return a message requesting comment about his Vero trip.