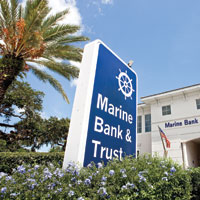 Marine Bank reports net profit of $900,000 for 2016
STORY BY RAY MCNULTY

New residential construction, a resurgent real-estate market and the post-recession expansion of small businesses – along with an increase in new deposit accounts – combined to produce another successful year for the only community bank headquartered in Vero Beach.
Marine Bank & Trust announced this week "strong earnings and asset growth for 2016," reporting $211 million in total assets as of Sept. 30. That number rose from $193 million as of Dec. 31, 2015.
Top-line revenues were up 11 percent from 2015 and, as a result of the solid performance, Marine maintained its "five-star superior" rating from Bauer Financial, the nation's premier bank-rating firm.
The bank also reported a net profit of $900,000 for the year, despite its earnings being impacted by the cost of a major technology upgrade during the first half of 2016 and the acquisition of a Sebastian branch in October.
Marine Bank President and CEO Bill Penney said the bank's strong capital position enabled it to focus on growth, invest in technology and expand into northern Indian River County.
He said the cost of the "one-time expenditures" for the technology improvements and Marine's purchase of the Valley National Bank branch on U.S. 1 in Sebastian was "several hundred thousand dollars." However, the new branch added 565 new customers and $13 million in customer deposits, as well as three new employees.
"We had an excellent year," Penney said of Marine, which has full-service branches on Beachland Boulevard and U.S. 1 in Vero Beach. "I'm really proud of what our team has accomplished, and the community continues to respond favorably to our style of personalized banking."
This is especially true, he said, when it comes to providing mortgages to home buyers and loans to small businesses.
With the local housing market heating up, Penney said his goal is for Marine to become the community's leading mortgage lender. In 2016, the bank provided the financing that put 109 families in new homes and wrote 170 residential loans for $48 million.
"I  love to put people in new homes," he added.
"We made a big commitment in 2013, coming out of the recession, to increase the size of our home mortgage department. And now that construction is back and more people are moving here and homes are selling, we're here and ready to help."
With the new Sebastian branch open and technology upgrades fully operational – Penney said the mobile banking, mobile check deposits, e-statements, electronic signatures and enhanced online capabilities and security now offered are "comparable to any of the major banks" – Marine is excited to celebrate its 20th birthday.
"If you can find the 1997 Yellow Pages, go back and see how many banks that were here then that are still here now and haven't changed their names at least once," Penney said. "You won't find many."