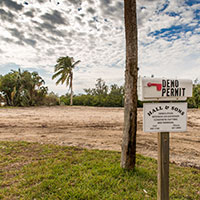 More old homes torn down as land value rises
STORY BY STEVEN M. THOMAS

If you have noticed houses disappearing in your neighborhood, don't worry: Your eyes are not deceiving you.
Houses are vanishing more and more frequently from one end of the island to the other – there one week, gone the next – as rising property values, built-out neighborhoods, stricter building codes and changing tastes in home styles drive the tear-down-and-build-new phenomenon.
"In many communities on the island, the only way to get a lot is tear down an existing house, and we are firmly in the teardown phase of development in those neighborhoods," says Premier Estate Properties broker/associate Clark French.
The houses being torn down are not worn-out shacks for the most part. Many are million-dollar or even multimillion-dollar homes that are in good condition, but that don't meet the needs of buyers.
"We are seeing a lot of it in Riomar," says Matilde Sorensen, co-owner of Dale Sorensen Real Estate. "I was driving over there the other day and, my gosh, they are tearing one down on Painted Bunting and a couple on Club Drive. It is amazing. These are livable properties that are retailing for more than a million dollars that people are tearing down so they can build new. I think the future of Vero Beach is going to involve a lot of that."
"People like new construction, including new advances in technology you can't get unless you start fresh," says Bob Gibb, owner/broker of John's Island Real Estate.  "We had quite a few in John's Island in 2016, with people paying about $2.4 million to $2.6 million for houses they tore down. Land prices have increased and may be three-quarters or seven-eighths of what you are paying for in these cases."
Since 2012, property in Indian River County has appreciated by nearly $5 billion, according to figures provided by deputy property appraiser Sissy Long.
Several hundred million of that $4.96 billion is due to new construction, and hundreds of millions more stems from the increased value of existing houses, but the bulk of the increase is due to escalating land value.
Oceanfront land on the island has more than doubled in price since the depth of the downturn. With prime vacant lots being offered for $4 million or more, houses built 20 or 30 years ago on similar lots become a mere afterthought. People who pay millions for a piece of land in an ideal location want a house that is commensurate with their lot and view, and can afford to tear down a dated structure and build new.
Stricter building codes, changing buyer tastes and the hassles of major renovation are also fueling the teardown trend. If the cost of remodeling a house goes past a certain dollar figure, it triggers county and city building regulations that require the entire house to be brought up to code, potentially costing hundreds of thousands of dollars.
There is also the drawn-out hassle of renovating an aging structure. Once renovation starts, unknown problems may be revealed and homeowners can face a host of difficult choices.
"Once you start remodeling, there is always one more thing," says Gibb.
"We recently sold a house to a couple in John's Island," says French. "The price was $4.2 million and house was definitely a fixer-upper. They closed and brought in their architect and team and even started work. But they weren't 5 percent into it when they said, 'What in the heck are we doing fixing up an old house like this? It makes more sense to knock it down and build new.'
"Frankly, they would have spent more money renovating than the cost of a new build, and their house would have been worth less when they were done."
No matter how extensively a home is renovated, its MLS build-date will not change, so buyers will see it in some sense as a house dating from the 1970s or '80s or '90s and probably view it as less desirable than a new home.
"Teardowns are as popular now as whole-house renovations," says Sally Daley, owner/broker of Daley and Company Real Estate. "Making the choice is an individual, project-by-project calculus. I usually tell clients if the cost of renovation exceeds 50 percent of the purchase price, it may be better to tear down and rebuild. That way you end up with a 2016 house that meets all the codes and has an up-to-date floor plan."
Daley says some neighborhoods are riper for teardowns than others, such as Vero Isles and Bethel Creek, where homes were small to begin with – often two-bedroom, two-bath, with terrazzo floors and small kitchens and bathrooms. Teardowns are common in both neighborhoods because of the age and limitations of the existing homes.
Speculative builders are doing teardowns, too, when they can make the math work.
Joseph O'Neill and his partner Joseph Schlitt, realtors with Coldwell Banker Paradise, are developing a number of spec homes on the island, including some on lots where older homes were previously.
"The general rule of thumb is you can afford to pay 30 percent of the out-sale price for a teardown property," says O'Neill, who has degree in Building Construction from University of Florida's School of Construction, Design and Planning.
"In Central Beach east of A1A it is getting hard to find anything, even a teardown, under $375,000. If you pay that for the property and spend close to $550,000 building the house, you need to sell it for $1.1 million – so that is the limitation in Central Beach."