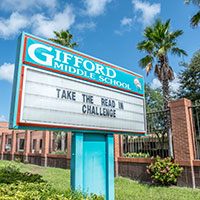 One-fifth of teachers at Gifford Middle have quit thus far this year
STORY BY KATHLEEN SLOAN

How bad are things at Gifford Middle School? Halfway through the school year, 10 out of 48 teachers – 21 percent – have already left.
Two teachers who quit their jobs at the school blamed Principal Roxanne Decker's failure to provide additional staff and other support before increasing the number of special education children placed in general education classrooms. The school is in the second year of increased mainstreaming.
Bill Wood and Bonnie Julin were both rated "highly effective teachers" by the district, but said they found it impossible to teach in an increasingly disruptive and potentially dangerous atmosphere at Gifford Middle. They said special and general education students were not getting the attention or services they deserved, and that overall discipline in the school was absent.
According to the teachers, when they reported problems and asked for support they were supposed to be receiving, Decker blamed them and criticized their classroom management skills. Decker would target teachers who spoke up, Bill Wood said, giving them poor reviews, ruining their chances of getting another teaching job within or outside the district.
School district documents that show the teacher turnover rate at the school during Decker's tenure indicate the problem has gotten worse in the past two years.
In 2013-2014 school year, two teachers resigned and one teacher's contract was not renewed for a turnover rate of 3 out of 52 teachers, or 6 percent.
In 2014-2015 school year, four teachers resigned and two retired for a turnover rate of 6 out of 51 teachers, or 12 percent.
In 2015-2016 school year, seven resigned, four retired, one teacher's contract was not renewed and one teacher was fired for a turnover rate of 13 out of 48 teachers, which is 27 percent – more than twice as high as the School District's overall teacher turnover rate of about 10 percent in the same year.
In the current 2016-2017 school year, eight teachers have already resigned and two have retired for a turnover rate of 10 out of 48 teachers so far, or 21 percent.
Wood, a science teacher for 31 years in the Indian River County School District before retiring in the 2015-2016 school year, is still in touch with people working at Gifford Middle School.
He said he has been told two science classes at the school have each had three teachers since the beginning of the year. An eighth-grade reading class has also had three teachers since school began, according to his sources.
"The revolving door of teachers is happening in other classrooms at Gifford Middle School," Wood said. "It's cheaper for the school to fill the positions with substitute teachers than to hire full-time subject-area certified teachers with benefits."
The district charged Vero Beach 32963 $37 to gather Gifford Middle School teacher turnover records, which indicates the data was not readily available. This makes it seem the district is not monitoring or analyzing teacher turnover on a school-by-school basis. 
At a recent school board meeting, board members asked Assistant Superintendent of Human Resources William Fritz if exit interviews were being conducted to find out why teachers are leaving. Fritz said that exit interviews are not conducted but he sends out online surveys, which give teachers anonymity and supposedly more freedom to report problem administrators.
Bonnie Julin said she did receive an online survey, but Wood said other teachers he has spoken with who left Gifford in the past two years claim they were not sent surveys or given exit interviews.