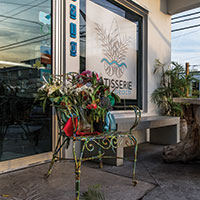 Patisserie chef Mark Edmonds dead at 47
STORY BY MICHELLE GENZ
Photo: Flowers left outside the door of the Patisserie following death of chef Mark Edmonds.

Every couple in the restaurant business knows Valentine's Day is a nightmare. So the evening before, Mark Edmonds made a special dinner for Christian Garcia, his husband of two years and his partner in Patisserie Vero Beach. It was a favorite of Mark's: a casserole of homemade lamb sausage, and for dessert, a little cake.
Exhausted after a day that started at 4:30 a.m. and was particularly intense making sweets for the holiday, the couple sat down on the couch together after dinner to relax. Suddenly, Edmonds slumped over, unresponsive after an apparent and unheralded heart attack. He never revived. He was 47.
The next day, sweethearts who headed to the Patisserie found a note on the door: closed for a family emergency. News of Edmonds' death travelled quickly via social media and soon, instead of chocolates and roses, thoughts in Vero turned to how quickly a perfect love can be shattered.
With it went the Patisserie, where so much community love was shared.
Edmonds and Garcia were known for their closeness, and it was that undercurrent that made the Patisserie an oasis in a busy day. From the moment they opened their doors less than five years ago, their shop became one of the most cherished spots in town.
The two were ever-present: Christian, who could calmly ring sales and chit-chat through a deafening standing room-only crush, and Mark in the back, visible through a window, working silently and furiously, perpetually dusted with flour.
The French-style bakery with its perfect espresso, authentic breads and pastries and excellent sandwich menu, had become Vero's go-to meeting place. Vero Wine and Film Festival founder Jerusha Stewart had laughed just a week earlier about booking back-to-back-to-back meetings there to talk about the upcoming festival.
Christian and Mark watched as their Patisserie eased the awkwardness of Match.com lunch dates; it offered neutral territory to recruit a new employee; and it gave a good reason to go downtown, something every merchant in the area quickly came to appreciate.
Patisserie will not re-open, Christian Garcia has announced through his friends.
"The Patisserie died with Mark," says longtime friend Michael Glatz, a Culinary Institute of America-trained chef who helped the couple start Patisserie in the fall of 2012 and was their roommate for many years.
"The best thing someone could do is to buy the place so Christian can start a new chapter," Glatz says.
"Christian can't bear to go in there," says artist and gallery owner Barry Shapiro, who had a regular perch at the coffee bar; his former gallery Lighthouse was a block away. Shapiro, a fellow New Yorker, got the call from Garcia last Monday night and arrived moments after Edmonds' collapse. He and his wife Patricia stayed at his side for the long days afterwards.
Shapiro helped organize a memorial celebration for Edmonds at the Raw Space at Edgewood gallery Sunday. Well over 100 attended, including Edmonds' father and brother, with a half-dozen Vero chefs stocking tables with food and wine. 
As hard as last week was, this week can't have been much easier. Edmonds and Garcia would have celebrated their second anniversary Tuesday. They were married in a group wedding at the South Beach Food and Wine Festival days after gay marriage became legal in Florida.
It seemed a boisterous display for the pair, who maintained a certain sense of decorum at the Patisserie.  In fact, their lives together involved considerable flair for revelry, beginning in the theater world in New York, more than 20 years ago.
Edmonds studied music and theater at Carnegie Mellon University; he got a part as the boy in "The Fantasticks" and sang in Gilbert and Sullivan operettas. He also sang in churches, deeply fond of sacred music. He was expecting to spend his career involved with the stage.
Meeting Garcia only reinforced that expectation. A graduate of University of Buffalo SUNY, Garcia had a SAG card and an agent, and had landed roles in commercials and TV shows.
Edmonds was a lifelong intellectual, concerned with human rights causes, fond of literature and music and fascinated by science in all its forms. Technology especially intrigued him – he dreamed of owning a Tesla – but he was also nostalgic; barring the Tesla, he would have loved a 1960 VW bus, says Glatz.
When Edmonds discovered his passion for bread-making, he got a job at the famous New York bread shop Amy's to learn all he could, eventually overseeing production of 1,500 baguettes a day. Later, after tasting his first true croissant at Ceci-Cela, the Soho bakery, he got a job with a French baker on Long Island to perfect his technique.
Edmonds and Garcia were working on Wall Street when terrorists flew into the World Trade Center. It happened that it was their day off, but it changed their lives.
They soon took jobs at an 11-room eco-resort on Vieques, an island off Puerto Rico. Garcia cared for guests while Edmonds managed the food; baking bread daily was a must.
They later moved back to New York, but when a friend invited them to her home in Vero Beach, they came to visit and realized the town had no French bakery. Bake it and they will come, they thought. With the friend as a silent partner, they opened the Patisserie. That was four-and-a-half years ago.
In November, they finally opened a much longed-for second shop at McKee Botanical Garden. Patrons were thrilled, and the daily drill at the bakery now included several runs to McKee.
McKee, like downtown, will be looking for another café. The Patisserie will soon be listed with a broker, Glatz says.
"He was so full of dreams," says Glatz. "Four-and-a-half years is hardly enough. Patisserie was just rounding the corner of becoming something great."
Once, at one of Edmonds' bread-making workshops, a student, Ann Taylor, asked how long his days were at Patisserie. "A very long time," Edmonds answered. "But where else would I want to be? What else is there to life?"