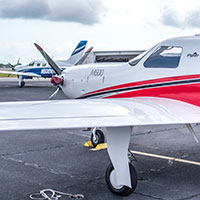 Trump trade policies seen not hurting Piper
STORY BY RAY MCNULTY

The protectionist trade policies promised by President Donald Trump are on Piper Aircraft's radar, but a spokesperson for the Vero Beach-based company said it sells fewer of its planes overseas today than it did in the past, and doesn't expect tariff changes to jeopardize its future.
Asked if the company might consider moving its operations outside the U.S. if other countries impose retaliatory tariffs in response to the import tariffs threatened by Trump, Piper marketing and communications director Jackie Carlon replied, "Gosh, no."
"Our business used to be 50-50," Carlon said of Piper's domestic and foreign sales. "Now, it's more like 10 or 15 percent outside the U.S., though we're up around 30 percent this year because of the China deal."
Last month, Beijing-based China Air Shuttle ordered 50 single-engine Archers, one of Piper's more popular flight-training models.
"We also have some M-Class aircraft going to Europe, five Seminoles going to Australia and we saw an uplift in our market in Japan last year," Carlon said. "The M600 is moving along at a healthy pace, the M500 is a popular product and our trainers are growing in market share."
While Carlon said Piper executives are "keeping a close eye on the situation," she noted that Piper's products already are "taxed substantially" by several foreign governments.
"So even if some of these countries respond with retaliatory tariffs – and who knows if that would happen? – it's difficult to say how much of an impact it would have on our sales," she said.
"We're already dealing with huge tax implications that raise the costs for buyers, but most of these taxes have been in place for a long time," she added. "In a lot of countries in Europe and along the Pacific Rim, customers are accustomed to higher taxes and plan accordingly."
Carlon said most of Piper's sales outside the U.S. – the company has 10 dealers in the U.S. and Canada, and eight more in Europe, Asia, Africa and South America – are subject to double-digit tax rates, compared to the single-digit rates applied to domestic purchases.
In some countries, however, purchases of flight-training aircraft, such as Piper's Archer and Arrow models – are sometimes exempted from taxes or taxed at a reduced rate.
"You get outside the U.S. and the rates tend to run from 13 or 14 percent to significantly greater, but it doesn't seem to be a deterrent," Carlon said. "It's the volatility of countries' currency and fluctuations in the exchange rates that move the dial, because that's what has the greatest impact on their economies."
For example: Carlon cited the recent devaluation of Brazil's currency, which has resulted in an economic downturn and political unrest in the country.
"Historically, Brazil was a very big market for us, but not anymore," she said. "There's too much uncertainty with their currency. We've seen the same with South Africa."