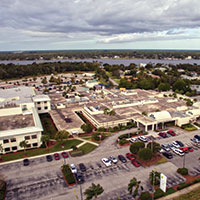 Who is buying Sebastian River Medical Center?
STORY BY MICHELLE GENZ
Photo: An aerial photo of Sebastian River Medical Center.

After breaking ground in August on Sebastian River Medical Center's big 90,000-square-foot, $64 million expansion project, it seemed unlikely that parent company Community Health Systems would turn around and sell the hospital.
But sell it they did last week, along with Melbourne's two Wuesthoff Medical Centers and five other hospitals, in a deal that is expected to go through in the second quarter, according to the company website.
It's the second time in three years that three area hospitals have changed hands.
The sale seems to be the Franklin, Tenn.-based chain's most desperate move yet to pay off some of its $15 billion in debt.
Even a month after the expansion project was begun, fears of a sale began circulating after CHS stock plummeted, and Bloomberg News wrote that CHS was considering selling another batch of struggling hospitals from the 61 it had acquired from the Naples-based Health Management Associates in early 2014.
Community Health Systems is the second-largest investor-owned hospital system in the country. Its website shows it having 158 hospitals in 22 states, though that may not reflect recent divestitures.
Assuming the deal goes through, Sebastian River and the Wuesthoff centers will be part of the Boston-based Steward Health System, a much smaller for-profit chain of nine hospitals, begun in 2010 when a New York private equity firm created Steward to take over six problem-riddled hospitals owned by the Archdiocese of Boston.
As Steward took over, its goal was affordability for patients simultaneous with profitability. That ambitious and radical idea lit a fire under the Massachusetts health care industry, as Steward and Tufts Health Plan created a limited-network insurance plan to be sold near its hospitals.
That plan offered patients a discount in insurance premiums based on the fact that Steward hospitals charged less. The strategy took patients away from Boston's higher-priced teaching hospitals and caused those hospitals to rethink their own rates.
Precisely the opposite concept has taken hold in our area – Sebastian River Medical Center has some of the highest reimbursement rates in the country, and Lawnwood Regional Medical Center's are even higher, by a lot.
Indian River Medical Center is desperate to negotiate higher rates for itself. They now stand at 141 percent of Medicare's rate, compared to close to triple Medicare's rate at Sebastian and quadruple the rate at Lawnwood.
Steward didn't turn a profit until 2015, five years after it began. According to the Boston Globe, which cited public filings, the $131 million operating profit in 2015 followed a $75 million loss in the prior fiscal year.
In September, Steward sold off all of its hospital real estate – a $1.2 billion deal – to Medical Properties Trust, an Alabama-based real estate investment trust specializing in hospital real estate, according to Modern Healthcare, a Crain Communications publication.
The REIT has vowed to spend up to $1 billion more to buy the real estate of hospitals that Steward acquires.  That money would be used to fund Steward's continued expansion, the publication says.
As for Community Health Systems, whose stock has tumbled from around $60 a share just over a year ago to $6.90 at last Friday's close, it has built in a poison pill to keep Chinese online gaming billionaire Tianqiao Chen from acquiring enough stock to control the company. It has reportedly had interest from Apollo Global Management, a New York equity firm that recently entered the hospital business.
How the sale will affect the CEO, the 100 doctors and 500 staffers at SMRC is anyone's guess, and the same for the sale's effect on Vero's Indian River Medical Center, a nonprofit stand-alone hospital that last quarter lost $4 million and has just formed a committee to examine all options including sale.