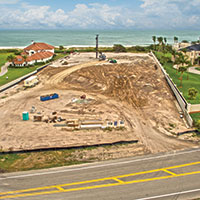 Double lots on ocean sought by wealthy buyers
STORY BY STEVEN M. THOMAS

The top 1 percent of wealthy homebuyers have a new No. 1 priority for their multimillion- dollar homes – privacy, according to a 2016 report from Luxury Portfolio International.
The desire of this group for secure and peaceful seclusion is illustrated in Vero by a new trend in the estate section of the barrier island, where buyers have begun purchasing double lots on the ocean to build new homes.
"It used to be if somebody bought a double lot – that was pretty rare. Now it is the norm," says Premier Estate Properties broker associate Clark French, who with his partner Cindy O'Dare sells much of the property in the estate section. "And it's not like they are buying extra land so they can build huge homes that take up every square foot. It is more for privacy."
"Affluent buyers are increasingly purchasing wider lots and double lots to create a physical barrier and landscape buffer between them and their surroundings so they can be secure and at peace on their property and have greater privacy if they're using their pool or entertaining outdoors," says Michael Thorpe, co-owner of Treasure Coast Sotheby's International Realty.
Bear in mind that lots in the estate section are not petite to begin with. In the northern part of the section, which extends for a little more than a mile from the Beachside subdivision to the St. Lucie County line, most lots are 2 acres or more, with 150 feet of ocean frontage – plenty of room for a large estate home with yard and gardens.
But estate section buyers increasingly want more, including a buyer who purchased property at the top of the section two years ago. To ensure privacy and plenty of room, they paid $6.1 million for four acres with 230 feet of ocean frontage to build their Florida home.
They pulled a permit for the house at 1860 S. A1A last summer and recently began construction of an entry gateway.
A few doors to the south, at 1940 S. A1A, Robert McGuire bought two lots totaling five acres with 315 feet of ocean frontage, where he had a 44,000-square-home built, according to county property records. He had been living in a 16,000-square-foot home next door on a single ocean-front lot, but evidently wanted more elbow room.
Just south of the McGuire estate, a Pennsylvania couple, Samuel and Dena Lombardo, paid $7,590,000 for three lots that total more than five acres with 310 feet of ocean frontage. They purchased the land at 1980-2020 S. A1A in June 2016 but haven't pulled a permit for their house yet.
Further south, next door to the home known locally as the "Bar Code Lady's House," a family bought two lots in 2015 that total 3.5 acres with 225 feet of oceanfront, where they are now building a substantial home. Designed by noted modernist architect Phil Kean and engineered by Schulke, Bittle & Stoddard L.L.C., the impressive house will continue a shift toward more contemporary architecture in Vero Beach.
At the bottom of the estate section, also in 2015, a buyer paid $9,250,000 for a new 20,000-square-foot home on a 1.66-acre lot with 155 feet of ocean frontage at 2460 S. A1A. A few days later, in a separate transaction, they expanded their territory, buying the empty 1.7-acre lot next door for $3.3 million, adding another 155 feet of beachfront and ensuring that they will not have any close neighbors on that side.
A sixth person who has doubled down in the estate section is rags-to-riches success story Sir George Buckley. Knighted in 2013 for his contributions to the United Kingdom as a businessman, the 70-year-old former CEO of the 3M Company paid $5 million for two lots at 2070 and 2080 S A1A that total 3.75 acres and include 240 feet of private oceanfront.
He plans to participate in the "'snowbird' migration – Florida in winter and Minnesota in the summer – with about a week a month in the UK," according to British newspaper The Independent.
Top realtors commenting online on the Luxury Portfolio International report agree with French and Thorpe about the growing importance of privacy to wealthy buyers: "A key characteristic of many of today's highest-end listings is ultimate privacy and seclusion," says Katherine Baryluk of Regency International, who sells luxury estates in the Caribbean.
Jeff Hyland of Hilton & Hyland, Josh Altman's boss on "Million Dollar Listings L.A.," concurs, noting "a preference for longer-than-ever gated drives, security systems, and being out of the public eye as much as possible. Ostentatiousness has been abandoned in favor of subdued."