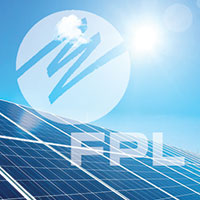 FPL plans huge Indian River County solar 'farm'
STORY BY SAMANTHA BAITA

Florida Power & Light intends to build a 74.5-megawatt photovoltaic operation – a solar farm that produces enough juice to power 15,000 homes – in southern Indian River County, east of I-95, at 1750 122nd Avenue SW.
Slated to be operational by early 2018, the power-generating project will occupy 354 acres of a 697-acre tract of former groves FPL is buying from Evans Properties, Inc.  The sale price has not been disclosed.
The Indian River County location was chosen, according to FPL, because of its close proximity to existing FPL transmission lines, flat topography, lack of trees and underbrush that would need to be cleared, and the fact that building a solar farm there will have virtually no negative environmental impact.
Solar panels will be assembled on site and installed approximately 2 feet off the ground, placed strategically to avoid wetlands and other environmentally sensitive areas.
FPL, which built the state's first solar energy operation in 2009 in DeSoto County, is currently building new solar facilities in Charlotte, DeSoto and Manatee counties, which are expected to triple the amount of clean solar power FPL generates. And more solar farms are in the works.
FPL's $1.3 billion natural gas-fired plant in Okeechobee County is scheduled for completion in 2019, and, said  Eric Silagy, president and CEO of FPL, "the plant site has sufficient space to accommodate large-scale solar power generation, which we hope to add in the future as the cost of solar technology continues to decline."  
FPL has reduced its solar energy installation costs by buying panels in huge quantity for large-scale projects like that planned for Indian River County.
More solar power will lower FPL's carbon emissions rate, which consultant David Knight pointed out "is already lower than the U.S. Environmental Protection Agency's goal for Florida to meet by 2030."
Knight's letter also suggested that because of the continuing decline of the citrus industry and the resulting pressure on grove owners to convert their land to alternative uses, farmers might do well to consider using their property for solar farms.
The project still needs to be approved by the Planning & Zoning Commission and the County Commission, but that probably won't be a problem since solar farm development is supported in the County Comprehensive Plan's Future Land Use provisions.
Although the project itself is an unmanned facility, it will create approximately 200 jobs during construction, including laborer positions, and others requiring special skills and qualifications, said Knight, who added that it could also "create indirect benefits through FPL's purchase of goods and services from area businesses."
If all goes as planned, construction is expected to begin in April and be completed in January 2018, according to documents submitted to the county by FPL.