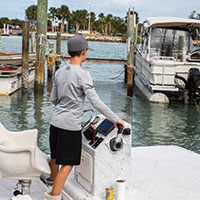 Should kids be operating power boats on their own?
STORY BY RAY MCNULTY

Vero Marine Center co-owner Brian Cunningham said he doesn't see many minors operating motor boats in our local waters – especially when they're without adult supervision.
"I'm sure they're out there," he said, "probably in smaller boats and around the islands."
But should he see any at all?
That question continues to be asked weeks after 15-year-old Vero Beach High School freshman Jimmy Graves died in a boating accident in the Indian River Lagoon.
The Florida Fish and Wildlife Conservation Commission's investigation is "still ongoing," agency spokesman Chad Weber said, and a full report might not be available until early February. Thus far, few details have been released.
The FWC reported that Graves was knocked out of a 17-foot Boston Whaler at about 10:45 a.m. on the first Sunday in December, when the boat hit a wave about a half-mile south of the 17th Street Bridge. He did not surface after falling overboard.
Divers found Graves' body three hours later with the help of an underwater side-scanning sonar unit brought in by the St. Lucie County Sheriff's Office, but, as of Monday, the FWC had not identified the boat's 15-year-old operator or its owner, nor have investigators determined if the boys were wearing life jackets.
Weber said the FWC would not name the teen operating the boat – Graves' friend – at the time of the incident because investigators hadn't yet determined whether charges were forthcoming.
In the meantime, the accident has raised questions about Florida laws governing the operation of motor boats by minors, particularly those under age 16.
According to the FWC's website: "No person under 14 years of age may operate any personal watercraft, such as a jet ski. There is no minimum age for operating other types of boats."
The only requirement is that those born after Jan. 1, 1988, must carry a photo ID and an FWC-issued boater safety card to operate a vessel powered by 10 horsepower or more.
The FWC card shows that the operator completed the eight-hour instruction requirement established by the National Association of State Boating Law Administrators; passed a course equivalency examination approved by the FWC; or passed a temporary certificate examination approved by the FWC.
However, minors are exempt from the boater-education requirement if there is an adult onboard who holds a boater safety card or is not required to have one. The adult must be "attendant to and take responsibility for the safe operation of the vessel."
Only 32 of the 50 states have a legal minimum age for operating a motor boat. In most regulated states, the operators must be at least 12 years old, and some require the presence of an adult and/or a boater-education certificate.
Many have age-related restrictions that depend on horsepower. California and Texas, for example, have a minimum age of 16 for operating boats with motors of 15 horsepower or more.
At the other end of the spectrum, age is the lone requirement in Arizona (12), Kansas (12), Wisconsin (12), New Mexico (13), Nebraska (14) and Utah (16).
"I've traveled around a bit, and there's no consistency on a federal level," Cunningham said. "There are some places that require a boating license, even for adults, or they require a license to rent a boat.
"I don't know that those places are necessarily safer."
Should Florida set a minimum age for operating motor boats, or at least require minors under a certain age to be accompanied by an adult certified in boater safety?
Would changing the law make boating safer – for minors and adults – on the state's waters?
"In light of what happened a couple of Sundays ago, it's too easy to say we should change something," Cunningham said. "But it's all about circumstances and we really don't know what they were.
"If it hadn't been minors – if there were adults on that boat when it hit that wave – could we still have had a terrible result?" he added. "This was a heartbreaking tragedy, but if you look at the fact that, because of our climate and where we are, we have year-round boating with a lot of boats in the water here. And yet we don't see this type of thing very often."
Statistically, boating fatalities involving minors are rare.
According to the U.S. Coast Guard, there were 16 accidents nationally involving operators ages 12 and under in 2015. They resulted in seven injuries and one death.
There were 230 boating accidents involving operators ages 13 to 18 that same year. They resulted in 129 injuries and 17 deaths.
The numbers increase dramatically with age – more people over 18 have boats and alcohol becomes a factor for boaters old enough to drink – though there is a noticeable decline in accidents, injuries and deaths in the 55-and-over age group.
Also, Coast Guard statistics for 2015 revealed that only 24 boating accidents in Florida, regardless of the age of the operators, involved passengers falling overboard. Only five involved passengers being struck by a vessel.
The FWC reported that nine boating accidents occurred in Indian River County in 2015. There was one fatality. The county had just over 10,000 registered recreational boats.
Statewide, 55 people died in 52 boating accidents in 2015, and 22 of the fatal accidents involved people falling overboard. Six of the 55 were ages 17 and under.
The FWC reported that more than 70 percent of all operators involved fatal boating accidents had no formal boating education.
"I was one of those kids who learned at a young age with adult supervision," Cunningham said. "We didn't have the online courses, but everyone I was around was a boater. My kids took the course when they were younger, and I think it's a good thing.
"What you learn in that course is another piece of education that could help you when you need it," he added. "But even if you've taken the boater-safety course and you have adult supervision, accidents can happen."