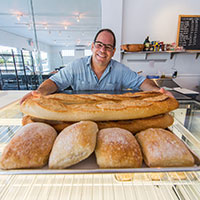 Beloved cafe reopens as Frères Patisserie
STORY BY STEPHANIE LABAFF
Photo: New owner of Frères Patisserie Bennett Gomez.

Since the sudden death of Patisserie owner Mark Edmonds earlier this year, many Vero Beach java junkies have found themselves adrift. For most, the Patisserie was more than just a place to pick up French pastries, organic lunches and a great cup of coffee – it was a place to catch up with friends, conduct casual business meetings and just hang out. In less than five years Edmonds and his partner, Christian Garcia, developed a cult-like following at the café.
While the couple will still be missed by all who were fortunate enough to cross paths with them, the buzz now is that Patisserie has reopened as Frères Patisserie Vero Beach. New owner Bennett Gomez became enamored with Edmonds' French-style bakery while visiting the area when he and his wife were thinking about moving from the Bayside neighborhood in Queens, New York to Vero Beach so they could be closer to his mother.
"When I found the Patisserie, I felt like I would be able to live here. The next time I came back for a visit I stopped by the Patisserie again, and that's when I became certain Vero Beach was a place we could be happy," recalls Gomez as he talks about the inexplicable draw of the café.
It was during a visit in April, when he was doing a walk-through of the home he and his wife Maria were buying, that Gomez discovered Patisserie had closed. "I had no idea what happened. I saw everything was still in here and there was a leasing sign out front. My brother Bruce has been in the bakery business in Woodside [in Queens] for more than 20 years. I thought maybe this was an opportunity."
From there events gathered momentum quickly. Gomez talked with his brother; they made an offer and closed on the deal quickly. "They were on the verge of walking the big equipment out of here. My big brother helped me out. He gave me a purpose. That's why we called it Frères, which is French for brothers."
After sitting unused for months, the place got a thorough cleaning, inspections were made and licenses obtained. Frères held a soft opening last Thursday and Tony, the head baker, has been busily making cinnamon rolls, meringues, cupcakes, donuts, cookies, pan de sal (Spanish salt bread), bread pudding and cakes. "Once we had coffee, we opened the door," Gomez says with a chuckle.
"Tony worked in the bakery business in New York with my brother for more than 20 years. He's getting a feel for things down here. He's used to cooking with gas, and we have electric here. The structure of the water here changes things too," explains Gomez, who purchased a special water filtration system to ensure patrons would get the best cup of Joe around. Still at the helm of the bean grinder is Papa, everyone's favorite Barista, a face synonymous with the original Patisserie experience.
Since pastries are where Tony's expertise lie, that's the initial focus of Frères Patisserie.
But Gomez plans to add breakfast, sandwiches, salads and soup, and he has already begun to make connections with local farmers and produce vendors to add organic, farm-to-table ingredients. Once the menu is filled out, Gomez hopes to extend hours, add beer and wine, offer dessert wines and open for special evening events.
Gomez was in the art shipping business in New York City during the early 1980s and feels like he's come full circle with his new venture nestled in the heart of the Vero Beach Arts and Antique District.
"My clients were people like Andy Warhol, Julian Schnabel, Jeff Coons and Jean-Michel Basquiat. At that time, some of them were up-and-coming artists. I would go to their gallery openings and studios. I have such fond memories of that, and I want to create opportunities for artists here." Working with local art guru Barry Shapiro, Gomez intends to create a space at Frères to display artwork by local artists and open in the evenings for showings.
Gomez so enjoyed his visits to the original Patisserie, he says, "We're not doing a clean slate, we're reconstructing that slate. I want to give people back their space."
Frères Patisserie Vero Beach is located at 1910 Old Dixie Hwy. Open Mon. through Sat. from 8 a.m. to 4 p.m. Visit them on Facebook or call 772-332-7599.