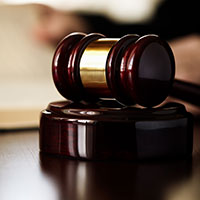 Caregiver, who stole from John's Island senior, back in jail
STORY BY BETH WALTON

A Vero Beach home caregiver who swindled an elderly John's Island resident out of nearly $78,000 in 2014 is back in jail after repeatedly violating the terms of his probation.
Gregory White Jr., 23, had his sentence for felony exploitation of an elderly or disabled adult reinstated and modified in Judge Cynthia L. Cox's courtroom last Thursday.
"White failed to make his required restitution payments, tested positive for using marijuana, and absconded from supervision," said Assistant State Attorney Brian Workman.
"At the sentencing hearing on his violation of probation, my recommendation was to revoke his probation and send him to prison."
Exploitation of an elderly or disabled adult is a third-degree felony, punishable by a maximum of 5 years behind bars.
White Jr. was sentenced last week to 364 days in county jail with credit for 249 days time served, according to the office of the Indian River County Clerk of the Circuit Court. He also must appear before the county's mental health court.
His initial sentence was for six months jail time and five years of probation.
The case got underway when Vero Beach Police Department responded to a report of theft at the Chase Bank at the corner of Beachland Boulevard and A1A in May 2014.
There, island resident John Beck and a bank manager were inquiring about abnormalities in Beck's bank account. There had been at least 26 suspect withdrawals between January and April 2014 totaling $77,730, according to court documents.
Beck told police these transactions were done without his consent and that his signature had been forged. He said he believed his caregiver, White Jr., was responsible.
The family hired White Jr. in 2013 to help Beck, then 82, get around. The retired investment executive had recently broken his hip and also suffered from Parkinson's disease.
The two men would stop at the Chase Bank on their trips to town so White Jr. could receive payment for his services.
Near the end of his employment, White Jr. was earning $20 an hour. During his employment with the family he earned $17,170.
Marilyn Beck told authorities that he was an "excellent employee and would never have expected him to take advantage of her husband," court documents state.
She said the memory loss associated with the Parkinson's, medication and her husband's physical pain left him unaware the extra money White Jr. was withdrawing was not related to the cost of employment.
During the investigation, White Jr. told police Beck was offering him more money because he knew he needed help supporting his family.
Beck, an avid sportsmen and navy veteran, died at the home he shared with his wife on Paget Court in John's Island in June 2015, according to an obituary in the New York Times.
The New York native attended Phillips Exeter Academy before graduating from the Wooster School in 1949. He earned a bachelor's degree in history from Princeton University in 1953 and graduated from Harvard business school in 1959.
He worked for Beck, Mack & Oliver, an investment counseling firm founded by his father and other Princeton alumni.
After his termination, White Jr. wrote Marilyn Beck an email to apologize and explain he only wanted to emulate the family's success. He pleaded for forgiveness and leniency, begging them to help him stay out of jail. He said he loved the family and was sorry he had lied to them from day one.
White told the Beck his dad had been in prison and that he was raised by a single grandmother in a rough part of Wabasso.
"You have been more of a mother and father figure than anyone I've ever came in contact with on this earth," he wrote in the email included in court documents. "You pushed me to begin my own [life] and told me I could be somebody. That's something I never heard before and it's something I will never forget. If there is anything I can do not to go to jail, I WILL DO IT. I want to see my one and only child grown up."
White Jr. said he became a certified nurse assistant with VNA Home Health and Hospice of the Treasure Coast when his girlfriend became pregnant and his job at Subway wasn't paying the bills, according to the email.
He recalled observing a Thanksgiving holiday at the Becks' John's Island home and said one day he wanted the same for his family.
"I wanted to be able to send my kids off to college. I wanted me and my sons to have stories about fishing and camping. I wanted to establish something like Mr. B did. But, in reality, with bills, a new wife, a baby, I didn't see a way out."
White Jr.'s lawyer, Brook Butler, did not respond to a request for comment.