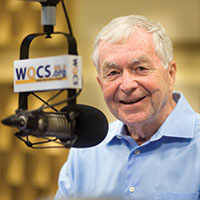 Dick Golden, jazz radio host:'The music moves you'
STORY BY RAY MCNULTY
Photo: Part-time island resident Dick Golden.

Dick Golden, now 73, has begun what he calls his "transition to retirement," but it's difficult to imagine him not finding some way to remain in radio, reveling in the music to which he has devoted his life.
The part-time island resident has interviewed jazz legend Count Basie, and once wrote a three-page congratulatory letter to Frank Sinatra, who responded with a handwritten note on his personal stationery and then followed up with a cassette containing the unmistakable voice of "Ol' Blue Eyes" doing a couple of unscripted promos for Golden's radio show.
He continues to cherish his longtime friendship with Tony Bennett, who he affectionately and accurately describes as "the man who carried the American standards songbook into the 21st century."
Then, last month, one of Golden's George Washington University-produced radio shows, which now are broadcast on Sirius/XM's Real Jazz channel, received the gold medal in the Best Music Special category at the New York Festivals International Radio Awards.
"To be recognized in such a way is quite an honor," said Golden, whose radio shows have been aired locally – first on WGYL-FM in Vero Beach, then on WQCS-FM in Fort Pierce – for most of the past 30 years, and who has owned a condominium in Indian River Shores since 2012.
"The show was a two-hour birthday tribute to Tony Bennett and Louie Armstrong that I did in August 2016," he added. "For an international radio festival to recognize that genre of music with the gold medal was pretty extraordinary."
Which means it was fitting.
Across the past 50-plus years, Golden has enjoyed a pretty extraordinary career, one that began during his high school days in the early 1960s, when he would ride a Greyhound Bus from Boston to Portsmouth, N.H., to host a radio show on which he would play the music that stirred his soul: the jazz of Basie, Armstrong, Duke Ellington and Ella Fitzgerald, along with American standards composed by Irving Berlin, Cole Porter and George and Ira Gershwin and performed by Sinatra, Bennett and Nat King Cole.
"I'm at that intersection," Golden said, explaining that he grew up in the Boston area in the 1950s and '60s, when there was a wide variety of music across the radio dial.
"Although Elvis Presley and Little Richard and rhythm-and-blues were getting a lot of play and were great in their own way, I was drawn more to the jazz artists and the American classics – the well-crafted songs performed by artists who could blend lyric with melody and communicate on an emotional level.
"That's the music really touched me."
So while most of his peers were twisting and bopping to rock 'n' roll, Golden embraced the music of an earlier generation.
"I didn't tell anybody I was taking a bus to Portsmouth to play Tony Bennett and Frank Sinatra records on the radio," Golden said.
Golden next worked for two Boston radio stations while attending Northeastern University, where he majored in English. That big-market experience led to his move to Cape Cod, where in 1970 he became the first program director at WCIB before joining WQRC in Hyannis two years later.
In 1977, Golden experimented with a six-night-a-week, four-hour program that featured what he called "America's music." For the next 28 years, he hosted "Nightlights" and became the voice of jazz and American standards in southeastern Massachusetts.
Golden's show was so popular that, when the station was sold and the new ownership announced his program would air only on weekends, public outcry persuaded the owners to return "Nightlights" to its traditional schedule.
Among those who wrote letters to the station were Carly Simon, Willie Nelson, Bette Midler, Lionel Hampton and, of course, Bennett.
It was WQRC owner Greg Bone who introduced Golden to Vero Beach in 1986, when Bone's company purchased WGYL and WTTB and began sending recordings of "Nightlights" to WGYL, which aired the program from 8 p.m. to midnight five days per week.
"Although the program was on tape, Dave said there was such a vibrant community in Vero Beach for jazz and the arts that he needed me to go down and do some consulting and promotions," Golden said. "So I would come down four or five times each year, during the high season, and I'd stay about a week or two each time."
He said he quickly fell in love with Vero Beach, which he felt shared much of Cape Cod's charm, appeal and "sensibilities."
When WGYL was sold and changed its format in 1997, Golden's program was eliminated. Two years later, however, the show was resurrected by Fort Pierce's WQCS, which aired "The American Songbook" on Saturday evenings.
"So I've been in the market here for 30 years," Golden said.
And counting: Golden said WQCS will soon announce that his program will be expanded to five nights per week (Monday through Thursday and Saturday) starting Oct. 1.
Golden said he was thrilled by the news – so much so that he plans to move from his home in Washington, D.C., where he has produced his "GW Presents American Jazz" program for Sirius/XM on the George Washington University campus for more than a decade, and become a full-time Indian River Shores resident.
"I expect to relocate by next summer," he said. That, too, is part of his transition to retirement. But don't expect him to spend less time in the studio. His is a labor of love.
"There was some wonderful music made from the late 1930s through the end of World War II and into the early '50s," Golden said. "Musicologists say that was a time when popular music was great, and great music was popular.
"That music is timeless," he added. "Even today, we have Tony Bennett collaborating with Lady Gaga. But Tony Bennett isn't singing Lady Gaga's songs. Lady Gaga is singing songs by the Gershwins. When they're on stage singing to 20-year-olds, George Gershwin is very much alive."
Why does this music mean so much to Golden?
"I loved people who were able to communicate the human experience," Golden said. "The music that I love does the same thing. They're not just songs; they're short stories. But when you tell them with music – when you get the perfect voice, the perfect intonation, the perfect phrasing, the perfect melody – you touch people's emotions.
"When Sinatra sings, 'One For My Baby,' that's art . . . and it's timeless," he added. "When you hear a word, you think a thought. When you hear a sound, you feel a feeling. When you hear a combination of word and sound, you think a feeling or you feel a thought.
"That's why this music endures. It moves you."
Certainly, it moved Golden, who, despite not being a musician, has spent his entire adult life sharing his love for these words and sounds and how they make him feel.
He listens to songs composed by Berlin and the Gershwins and he feels the pride and joy of Jewish immigrants celebrating their freedom of expression.
He listens to the jazz compositions and performances of Basie, Armstrong and Ellington, and he recalls the words of President Bill Clinton, who cited their black heritage and astutely described the genre as "music that was forged in great pain and played with great joy."
He listens to Sinatra sing, and he feels an honesty that transcends talent and fame.
"Louie Armstrong was once asked to describe the music he played, and he said, 'What we play is life,' " Golden said.  "That's exactly what I've always tried to do when putting together a program. The music I play is a representation of the American experience."
Golden, through his radio programs, has shared that experience with millions of listeners.  And he still composes his shows with the same commitment, same joy, and same improvisation as he has done for more than five decades, mixing information about each song and keen insights with his selections to create something special.
"You have to have at least the essential ingredients forged in your mind, so a lot of thought and preparation goes into it," Golden said.
"But then, once you get started, a lot of it is feel.
"I'm actually listening to the music as I'm playing it, and one song leads you to the next," he added. "It's not unlike a jazz song. There's structure, but there's also improvisation. You create something in the moment, but it fits with the melody.
"You've got to keep your focus on what's next."