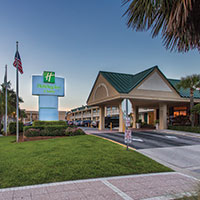 Holiday Inn remodeling a few years off
STORY BY RAY MCNULTY

Apparently, all those rumors about major renovations at the Holiday Inn Hotel & Suites on Ocean Drive aren't wrong.
They're just a little premature.
The founder and president of Mulligan's Beach House Bar & Grill, which operates a restaurant on the premises, said the hotel's owners have discussed with him their desire to embark on a remodeling project – but not "any time soon."
Probably not before 2020.
"They've made it clear to me that they will do something eventually, but it'll probably be three of four years before they do anything," George Hart said last week. "As far as I know, they haven't even decided what they're going to do yet."
The local Holiday Inn is owned by Velogan Inc., a Delray Beach-based firm created four years ago. The company's president, Mark Walsh, could not be reached for comment, and its registered agent, attorney Richard Critchfield, did not respond to a message left at his office.
Vero Beach City Manager Jim O'Connor said a Velogan attorney represented the hotel's owners during a past meeting at which the City Council welcomed public comment on zoning issues in its "vision plan."
The attorney asked questions about parking requirements and height restrictions, specifically pertaining to base-floor elevation – something that prompted O'Connor to believe any major renovations might include ground-level parking.
However, O'Connor said he hasn't had regular communication with the owners, nor have they initiated contact more frequently this past year.
"Every so often, we'll get a call from the attorney or someone will pop in and ask questions," O'Connor said. "Usually, they'll inquire about what they'd need to do if they wanted to do renovations and how the process here works.
"But we haven't seen a site plan or even any artist renderings, and they haven't told us what they might want to do," he added. "So it doesn't appear they're looking to do anything right away."
O'Connor speculated that Velogan, which Hart says owns "a lot of hotels all over the country," might opt to transform the Holiday Inn into a "resort-type entity," similar to the Vero Beach Hotel & Spa and Costa d'Este Beach Resort & Spa.
Hart said he would not be surprised if Velogan, once it commits to a renovation, ends its Holiday Inn affiliation and builds more upscale accommodations under the banner of a higher-rent hotel chain.
However, he said he didn't think Velogan would convert the hotel into a time-share property.
Whatever Velogan does, Hart said Mulligan's will continue to operate in Vero Beach – and he hasn't ruled out the possibility that his restaurant could remain on the premises of the renovated hotel.
"Mulligan's is alive and well in Vero Beach, and we're not going away any time soon," Hart said, adding that Velogan Vice President Michael Walsh is his primary contact with the hotel's owners. "Sooner or later, they're going to do renovations there, but we have a good business relationship with them and we'd like to continue that relationship.
"Their plans could involve keeping Mulligan's on the property, but, if they don't, I have an agreement with them and we'll get plenty of notice," he continued. "If they tell us they're going to remodel and become a five-star Marriott, we'll find another location.
"Either way, we're not leaving Vero Beach. We're planning to be there for a long time."
Rumors of renovations at the Holiday Inn have been circulating on the island for more than a year. Several Ocean Drive merchants have raised the possibility of such a project in discussions with city officials about the parking shortage in the Central Beach business district.
Some merchants criticized city's failure to require the Vero Beach Hotel (2007) and Costa d'Este (2008) to provide sufficient parking for guests and employees before they opened for business.
They want to make sure officials don't make the same mistake with a renovated Holiday Inn property.