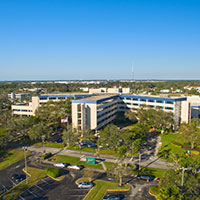 Major changes for our hospital won't come easy
STORY BY RUSTY CARTER

The need of Indian River Medical Center to swiftly find a different future seemed to become clearer during the first of two public meetings last week, where a consultant and three separate committees said the financially-challenged hospital's best chance for long-term survival is a partnership or sale to another healthcare entity.
But achieving a break from an independent past, and entering into a relationship with a potential larger, better endowed suitor, will not be easy or quickly agreed to by all stakeholders – a reality made clear by one influential former Hospital District board member who declared: "The hospital will never be sold."
Two separate boards oversee the hospital's interests, one elected by county residents – the taxpayers who owned the hospital – and the other chosen by the leadership of IRMC, which operates the hospital. A special collaborative committee representing both interests is currently exploring the hospital's options for the future.
A Seattle consultant who met with IRMC leadership in March called the hospital's public-private hybrid leadership structure "utterly unworkable," and said it must be dismantled for the hospital to survive.
Over the years, the hospital has hemorrhaged money, losing a reported $45 million since 1998. It lost $4 million just in the first quarter of 2017, though the situation appears to have stabilized recently. 
But those losses failed to rattle some of the hospital's most ardent supporters.
"At no time tonight did you hear, nor will it be discussed, nor will it ever be brought up, the sale of this hospital," declared Hugh McCrystal, a longtime local urologist who served on the district board for 24 years. "We are not looking to sell the hospital. I think that's a very important point. The hospital will not be sold. A collaborative with another hospital is not a sale to another hospital."
Marybeth Cunningham, vice-chair of the collaborative committee, responded quickly. "I think it's important not to take anything off the table at this time."
Physician Val Zudans, another former member of the Hospital District board, also countered McCrystal's bold pledge.
"It's not feasible to be a stand-alone," Zudans said. Noting the need for major investment in the years immediately ahead, he asked: "What legitimate business person will invest $185 million without control of the facility? This is the time to do something. Two years from now, no one will be interested."
Jeff Sommer, a consultant with Maine-based Stroudwater Associates, a healthcare consultancy hired earlier this year after the $4 million quarterly loss came to light, moderated the session. He said the "status quo is the riskiest option."
In June Sommer told hospital leaders the status quo is nearly hopeless and warned them IRMC's credit rating might soon dip into junk bond territory.
While IRMC boasts the region's best ratings for care, it is the market leader in just one of five ZIP code-defined geographic areas it serves – and being the market leader is crucial, signaling a strong revenue stream.
Members of the audience at the first of two meetings, which were billed as forums for public comment, offered their own solutions.
"Where is the nearest medical school in Florida, and would it be feasible to align ourselves with one, and therefore get quality doctors training to be better doctors?" asked one woman. "And what is Duke's role in this? If we choose any one of these options, do we lose Duke?" (In recent years, IRMC has entered into collaborative programs with Duke University Medical Center, including a well-regarded joint cardiac care program that began in 2006 and more recently the Scully-Welsh Cancer Center.)
"That's a very good question," Cunningham replied. "That's absolutely one of the options worth looking at."
Others worried about the effect a merger or sale would have on IRMC, particularly whether the hospital's identity and ability to fundraise via its Foundation would be impeded by a new corporate brand. Judith Rooney, who formerly worked for Hospital Corporation of America, spoke about the effect of an unrelated merger involving Florida Hospital.
"Florida Hospital had 22 hospitals in the state. What I noticed first is that they branded. Heartland Medical Center became Florida Hospital Heartland. Of the 22 hospitals, only one was allowed to keep its name. If you go that route, you're going to have to do what they want you to do."
Florida Hospital is now part of Adventist Health System, which has 45 facilities across several states.
From a business standpoint, a merger may be the best option for IRMC. A slide presentation by Stroudwater noted that S&P Global's outlook shows health systems continuing to perform better than stand-alone hospitals.  Improvement in nonprofit hospital prospects seems unlikely.
Sommer pointed out that Medicare is a large piece of any hospital's business.
"Here, you're a magnet for retirees," he explained. "The point we want to make here is the trend line. It's been negative. A huge chunk of your business is making your life more difficult for you. [Medicare is] . . . paying less and less of the cost you're incurring.
"All hospitals, on average, have negative margins on Medicare," Sommer continued. "Not-for-profits, by themselves, are even worse. That's one of the headwinds that Indian River and the entire industry face.
"Another set of issues is that you are in a competitive market – Sebastian [River Medical Center] to the north. Lawnwood [Regional Medical Center] to the south. You have competitors that are proximate to you and they are significant in terms of the services they provide and the market share they command.
"You don't have the luxury of being the sole community provider."
The consultant also pointed out an obvious dilemma: the hospital's governing structure. "It creates a certain dysfunction. You guys circle the wagons. Unfortunately the guns kind of point in instead of out."
He then circled back to the original premise.
"This is not a decision to affiliate. This is a decision to basically gather facts to understand 'Is the right partner out there? Can we find someone who is strategically aligned, someone committed to the same things we just outlined, and make us better than we can possibly be on our own? '
"And can we negotiate a set of terms that we're comfortable with that are contractually binding, and it has the right structure, given the goals we want to have. It's a recommendation to begin that process."
The Hospital District Board endorsed that recommendation last month. The IRMC Board meets July 14 to deliberate the same question.