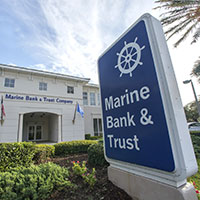 Marine Bank planning to open new branch in Brevard County
STORY BY RAY MCNULTY

Marine Bank & Trust celebrated its 20th birthday this week by continuing to expand in what its president and CEO believes is the right direction – north.
In October, Bill Penney oversaw Marine's acquisition of a full-service banking center in Sebastian.
Now, the only bank rooted in Vero Beach is preparing to branch out again, this time into Brevard County, and Penney doesn't believe he's going out on a limb.
"The banking business, to me, is all about the people, and we've assembled a great team of local bankers ready to introduce Marine Bank's customer-first service to that community," Penney said. "So we're very excited about this."
With two full-service banking centers in Vero Beach – at 571 Beachland Boulevard and 1450 U.S. 1 – and another at 1020 U.S. 1 in Sebastian, Marine plans to open its fourth full-service branch in north Melbourne or Rockledge.
Marine currently has a loan production office in Rockledge.
"We're looking to buy or lease a facility in that area," Penney said. "We're exploring a few possibilities. If all goes well, we could be open for business as soon as three to six months. It'll definitely be in the next several months."
When Marine opens the Brevard branch, it will be managed by Malak Hammad, a 10-year Melbourne resident and former PNC Bank vice president who managed that bank's Baytree/Viera branch.
Penney hired Hammad – who has long been involved with community causes such as the Children's Hunger Project, Devereux Florida (children's welfare), Serene Harbor (domestic violence), the Women's Center, Brevard Zoo, Junior Achievement and the Melbourne Regional Chamber of Commerce – as a Marine Bank vice president in April.
"When we decided to do this, I started asking friends and colleagues, 'Who is the best banker up there?' and I kept hearing Malak's name," Penney said. "She's an amazing person, not just a terrific banker, and her connections will provide us with many opportunities."
The new branch will have five employees, including Hammad.
Penney said he has wanted to expand into Brevard County for more than a year, and his efforts intensified after Marine purchased Valley National Bank's Sebastian branch last fall. The acquisition added 565 new customers and $13 million in customer deposits during the fourth quarter of 2016.
Now, he's eager to expand further.
"The bank is doing well," Penney said. "We've got great people on our team and our customers are happy. This is an exciting time for us, and as we celebrate our 20th birthday, we believe this is the right time to do this."
While announcing the planned expansion, Penney also noted the bank's longevity in an industry that has endured a decade of seismic shifts. He said only two Indian River County banks are still operating under the same name as they were in 1997 – Marine and Atlanta-based SunTrust.
Two of Marine's original employees, Mary Cone and Karen Clothier, still work for the bank.
"You don't find longevity like that in many businesses these days," Penney said. "And our current director, David Croom of Croom Construction, built our first location on Beachland Boulevard."