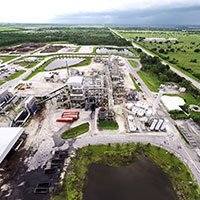 Purchase of defunct INEOS plant in home stretch
STORY BY LISA ZAHNER

Alliance BioEnergy's offer to buy the shuttered INEOS ethanol plant has been approved by the U.S. Department of Agriculture, and the deal is expected to close in a couple of months.
Alliance CEO Daniel de Liege told the County Commission last week that finally, after months of delays and much longer negotiations than he ever expected with the bank and the broker of the property, he's ready to start implementing his eco-fuel production plans and, not far down the road, rehiring former INEOS technical personnel to help operate the plant.
"They have been reaching out to us," de Liege said. "Certainly where appropriate we'll bring those people on because we certainly need people who know the facility and have worked there to get it turned on easily and quickly."
De Liege said Alliance has all the funding in place, a combination of cash and loans, to close the deal. At the same time, looking ahead at expansion and development needs, Alliance continues to raise money from the public through stock offerings, de Liege said, "so I can get as close to zero debt as I can on this first round."
"We still have a ways to go on the closing," de Liege said, adding that it's a minimum 60-day time period of due diligence, some final environmental testing and drafting a formal agreement. "Then we get to start painting and tearing down, not necessarily in that order."
Before staffing up to convert the plant to a patented, mechanical process of turning yard waste into cheap sugar and ultimately into ethanol, Alliance will move its corporate headquarters from West Palm Beach and its laboratory equipment and staff from Longwood, Florida, relocating both to the former INEOS site.
Chief engineer Jim Brown, de Liege said, will be the point person dealing with the county on any needed permits and on general operations.
Alliance plans to produce ethanol using technology developed and tested by University of Central Florida scientists. The technology is owned by the state, but Alliance has purchased the exclusive right to develop and commercialize the patented process.
"We want to do a scientific incubator, what we would like to do is have a satellite, if you will, of the university right here on our property that deals with renewable technology," de Liege said. "We would foster those ideas and then have the ability to commercialize them if there are viable."
Because of the university involvement and state ownership of the patent, de Liege said he can be completely open about the technology because he's legally protected from anyone pilfering it.
Commission Chair Joe Flescher said he very much appreciates the transparency, because the county was left mostly in the dark about what was or was not happening at the INEOS plant before it was shuttered and its secret technology was sold off to a Chinese company.
"I hope it continues," Flescher said about the open lines of communication.
De Liege said he plans to host an open house at the plant soon after Alliance takes over ownership and has a chance to clean the facility up a bit.
Though commissioners want the plant revived and hope to see dozens or even hundreds of high-paying jobs return to the area, the county is not involved in the Alliance endeavor, with one exception: Alliance plans to take yard waste from the landfill as "feedstock" for ethanol production, via an agreement with the Indian River Solid Waste Disposal District.
Commissioners directed staff to bring back a 90-day extension to a yard-waste option agreement giving Alliance more time to close on the sale and begin the plant conversion.