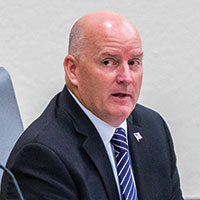 School leader's contract extended on 3-to-2 vote
STORY BY DEBBIE CARSON
Photo: School Superintendent Mark Rendell.

A divided and troubled-sounding school board extended Superintendent Mark Rendell's contact until June 2019 last week, even though board members did not have all the data needed to evaluate his performance and despite a long list of problems at the district under his leadership.
The extension seemed like a foregone conclusion in one sense – the board's agenda for the meeting listed just two options regarding Rendell's contract: "Take no action and allow Dr. Rendell's employment agreement to automatically extend for one additional year to June 30," or "Take action to extend the Superintendent's agreement for one or more years beyond June 30, 2018."
No option for letting Rendell go was included.
Despite that one-sided agenda, there was some gnashing of teeth and wringing of hands during the School Board's discussion of the matter, and two school board members ended up voting against extending Rendell's contract.
Board Chair Charles Searcy and Board member Laura Zorc both said they could not support the extension – though for different reasons.
"I want to see results," Searcy said, referring to the missing school performance data in his explanation for voting no. Though he felt he had enough information to evaluate Dr. Rendell, he didn't believe he had enough data to extend the contract.
For her part, Zorc said teachers and union members don't get the kind of two-year job security the board was extending to Rendell, so the superintendent shouldn't either. "That's just part of life," she said.
The apparent swing vote on the issue was School Board member Dale Simchick, who voiced concerns about renewing the contract through June 2019.  Ultimately, she said the timing of the contract's expiration was the issue, noting that if they didn't approve the extension, the School District could find itself without a superintendent in June 2018 – when the current contract ends – and without time enough to find a new leader before the 2018-2019 school year.
Board members pointed to problems with personnel and communication as their main causes for concern.
"We do have a huge problem with communications in our district," Zorc said, adding that the School District needs to improve its culture and climate. "We have to go back to the Golden Rule and treat people, employees, the way the board would want to be treated."
Simchick also questioned Rendell's hiring practices. She pointed to his recruiting of staff from outside the Indian River County School District and asked whether there truly are no qualified personnel within the School District's ranks.
"I would rather see more promotion from within," she said.
Other board members were more supportive of Rendell.
"I think Dr. Rendell has a good eye for talent," board member Shawn Frost said. "I think we're on the right track."
Despite his no vote, Searcy said the district is better off now than it was a year ago.
"We are making progress and that man is leading us," Searcy said.
Had the board voted to let Rendell go, it would have had plenty of reasons at hand.  These include his disastrous attempt to fire teacher Joe Nathaniel on trumped-up charges that were refuted in a scathing ruling by Administrative Law Judge John G. Van Laningham; the recent cheating scandal at Vero Beach High School that resulted in many students who didn't cheat losing valuable educational certifications; and the exodus of teachers from troubled schools such as Gifford Middle.
Rendell did not comment during the evaluation and contract extension discussions, but the agenda noted that he "recommended approval" of his contract extension.