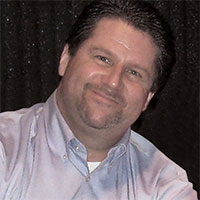 Vero attorney arrested for battery domestic violence
STORY BY LISA ZAHNER
Photo: Attorney Adam Chrzan

Local criminal defense attorney Adam Chrzan was arrested on July 19, and was charged with misdemeanor battery domestic violence.
The 52-year-old was booked into the Indian River County Jail that Wednesday evening after a police report says Sheriff's deputies were called to the family's home in southwest Vero in response to a disturbance with his estranged wife. He was released after midnight on his own recognizance.
According to the report, an argument over Chrzan wanting to take the couple's two children turned physical in the garage of the home with a young child present.
"When she would not let him take the kids, he shoved her against the garage wall. When she hit the wall her head hit the wall and she fell to the garage floor striking her left elbow," the report states.
"The victim had redness and swelling of her elbow area and redness to the left side of her face. Her clothing was soiled with dirt from her contact with the garage floor," Deputy Gary Farless wrote in his report.
Farless also wrote that the child confirmed witnessing the above events.
On a "first appearance questionnaire" signed by the responding officer, Chrzan's wife answered yes to the question, "Has the defendant previously assaulted or battered you, whether or not an arrest was made?"
She answered no to questions asking if he had threatened to hurt her in the future, or if she or anyone else would be in danger should he be released from jail.
Chrzan's release on July 18 without having to post bond was on the condition that he have no contact with his wife, who according to the arrest report, said she is separated from her husband.
She has also petitioned for a "temporary injunction for protection against domestic violence with minor children" and a hearing on that is scheduled for next Wednesday in family court before Judge Robert Pegg. Chrzan's next criminal court date is an arraignment set for Aug. 22 before County Court Judge David Morgan.
No defense attorney is listed yet on the court records as representing Chrzan.
It is anticipated that State Attorney Bruce Colton's office may petition Gov. Rick Scott to have the criminal case moved out of the 19th Circuit as Chrzan is not only a criminal defense attorney, but a former Assistant State Attorney from that agency.
Previous criminal cases involving former employees of the office have been handled in the 18th Circuit by prosecutors in Brevard County.
It was widely reported in July 2009 that Chrzan resigned suddenly from his job as a prosecutor, under mysterious circumstances. It was also widely reported that the resignation followed a May 20, 2009 incident in which Chrzan had a physical altercation with an unknown female at a gas station in Fort Pierce when the female was reportedly in his vehicle. No case file is available in St. Lucie County, as no charges were filed in the incident.
Chrzan's mugshot and certain personal information were redacted from the Sheriff's Office online booking report, as spokesman Lt. Thom Raulen cited the statutory provision that "provides for the exemption of former assistant state attorneys' information including photographs."
On his law firm website, Chrzan's biography states, "My professional career began as a staff writer for several newspapers in Florida, including the Press-Journal in Vero Beach." Chrzan at no time ever worked for Vero Beach 32963 Media.
The Florida Bar shows that Chrzan earned his law degree from Nova Southeastern University – Shepard Broad Law Center in 2003 and was admitted to the bar in October of that year.
He is listed as a member in good standing, with no notations in his 10-year disciplinary history, as of press time on Monday.
Chrzan also serves on the Florida Bar's 19th Judicial Circuit Grievance Committee.