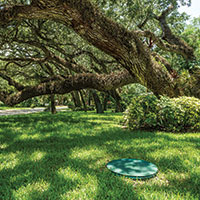 Vero's STEP sewer system ready for island hook-ups
STORY BY SIOBHAN FITZPATRICK AUSTIN

It was big news back in 2015 when the City of Vero Beach began to install new sewer infrastructure on the barrier island to get homes off of aging septic systems and reduce pollution in the Indian River Lagoon, but then the topic fell off the public radar and not much has been heard about it since.
Turns out that despite the low profile, a lot has happened over the past two years.
According to Vero's Water and Sewer Department Director Rob Bolton, all neighborhoods with problem septic systems now have special sewer lines installed and ready to hook up to, and nearly 100 homes on the island have connected to the system.
Bolton is now preparing for a second public information campaign to complete septic-to-sewer conversions in the Bethel Creek subdivision, which is where the first black PVC pipes were installed back in March 2015. The effort will begin with a community meeting at Bethel Creek house in August. That meeting will be followed every few months with a meeting in another drainage basin in the city with the same aim of convincing residents to get off septic and connect to the sewer system.
Bolton said the new push for hook-ups is beginning in the Bethel Creek subdivision "because they have the smallest lots and they experience the most failures of the septic systems."
According to an interactive map on the city's website, 31 of 155 homes in the subdivision at the city's northern edge have connected to the hybrid STEP sewer system that Bolton got approved in 2015 after a two-year effort.
STEP is short for Septic Tank Effluent Pump system. The system leaves existing septic systems in place as a backup while capturing household effluent before it goes into the groundwater and pumping it into the city's primary sewer system for treatment via a series of small diameter pipes that can be installed without tearing up streets or trenching yards.
STEP's biggest selling point is that it's less than half as expensive for homeowners to hook up as a standard sewer connection.
"It is costing people about $7,000 to put the new system in [after city rebates]," said George McCullers of Reliable Septic, a company that installs STEP systems. "Dollar for dollar, this is the best system out there, and that is coming from the guy who puts them in the ground."
McCullers said it takes about two days to do the job, including cleanup that leaves lawns and landscaping undisturbed.
Bolton estimates it would have cost homeowners approximately $16,000 to get off of septic if the city had built standard sewer lines.
About 800 of the 1,500 homes in the City of Vero Beach portion of the island are still on septic, and 80 percent of the systems are outdated, built prior to 1983 when state regulations required only a 6-inch separation between groundwater and the bottom of septic drain fields, and allowed drain fields within 25 feet of the lagoon.
Properly functioning up-to-date septic systems percolate wastewater through a thick layer of dirt that filters out bacteria, nitrogen, phosphorous and other chemicals, but the pre-1983 systems are leaking pollution directly into the groundwater, especially in heavy rains when soil is saturated.
When all homes are connected, the STEP system will capture 40,000 pounds of lagoon-killing nutrients each year, along with other poisonous chemicals that now flow from island septic tanks into the waterway.
The nutrients, mainly nitrogen, feed algae blooms that smother sea life, while coliform bacteria and household chemicals further pollute the water, making it dangerous for humans and spreading disease among bottlenose dolphins and other marine animals.
"Reducing nutrient inputs from all sources is critical to the recovery and future health of the Indian River Lagoon," William Tredik, an official with St. Johns River Water Management District, said in 2015, after the district agreed to help fund half the $1 million cost of installing STEP infrastructure on the island.
Hooking up to a STEP sewer line is optional for homeowners until their septic system fails completely and needs to be replaced. At that point, hook-up is mandatory.
Bolton is hopeful that the August meeting will inspire the remainder of Bethel Creek residents, and indeed any city residents on the barrier island and mainland who have not opted for the STEP system, to do so. Helping him convince the public are volunteers like Judy Orcutt, who chairs the Indian River Neighborhood Association's lagoon committee.
"I've lived on the lagoon for 30 years, and I've seen its decline over 30 years, so it's definitely important to me to fix the problem," Orcutt said.
Those who are unsure about hooking up to the sewer system might be encouraged by people who have already installed STEP, like Arthur Economy, an island resident who lives near a canal and has had the system for a year and a half.
"We are conscientious about being so close to a canal, the drainage behind my house goes straight to the river," says Economy. "We felt really good about getting rid of pollution. The chemicals that leave the house aren't good. And we've had no problems."