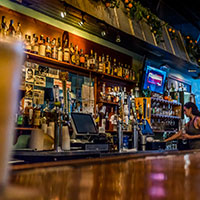 Andy Capak recovering from Grove bar shooting
STORY BY RAY MCNULTY

Janet Capak said her brother's recovery is progressing well – which is saying plenty, considering that just 2 1/2 months have passed since he was shot four times outside his downtown pub.
"Physically, Andy is doing fine," Capak said last week. "He was in the hospital for about a week, then he stayed with my parents for three weeks before going home.
"He's been through a lot and he's still got some work to do, but he's getting there," she added. "He's limping a little, but he's up and about, doing stuff at the bar again. He chose not to go to physical therapy. He said he wanted to do it on his own.
"He's actually doing it right now."
Capak said her brother, a 2003 St. Edward's School graduate, spent last week fishing with friends in the Bahamas.
As for her brother's psyche, however, Capak said he's still traumatized by the shooting, which occurred minutes before 2 a.m. March 31, when he tried to break up a fight just outside The Grove, the 14th Avenue bar he co-owns.
"He has a long way to go in dealing with the trauma," she said. "Like most men, he doesn't want to think about it. I took pictures of him in the hospital, but he hasn't even looked at them.
"He's looking forward, not backwards."
Contacted via text message last weekend, Capak's brother Andy declined an interview for this column, saying he was "tired of seeing articles about The Grove shooting in the papers" because it was "not good for my business." 
In fact, Capak said her brother doesn't remember much about the incident, and she wasn't sure how much help he has been able to offer Vero Beach police detectives, who, as of Monday, still hadn't arrested anyone in connection with the shooting.
"He remembers the gun going off," she said. "He said it felt like he was shot with a blank, because he was still standing. He thinks that's why the guy shot three more times – because he didn't go down after the first one."
Capak said her brother told her his memory of the shooter wasn't clear, "even though he was looking straight at the guy." She said her brother recalls seeing the shooter and his companions in the bar. He even remembers what they ordered.
But once he began trying to break up the fight, his mind became fuzzy.
"Going through something like that, it would behoove him to work with a trauma counselor," Capak said. "I know it's going to take time for him to be able to fully confront what happened, but I really think some counseling would help."
That said, Capak said she's thrilled her brother has come this far this quickly. She still vividly remembers the wee-hours phone call from his fiancée, Tiffani Atteo, who told her he had been shot.
Bad as that was, Janet Capak's nightmare was just beginning.
First, she called her mother to deliver the shocking news. Soon, she was driving to Lawnwood Regional Medical Center's Trauma Unit in Fort Pierce, fearing the worst and not knowing what to expect.
All she could do was hope the gunshots weren't lethal and that doctors would save her brother's life. He was, after all, only 31. And his wedding day was just a week away.
"Did I think we could lose him?" Capak said. "Absolutely. Two of the shots hit him in the abdomen."
Upon arriving at the hospital, information was scarce. With police informing Lawnwood officials that the shooter was still at large, the place went into lockdown.
So when Capak asked about her brother and his whereabouts, hospital officials wouldn't tell her. She was told the lockdown policy prevented staff from providing information about shooting victims, even to victims' families, unless the visitors had a secret security code.
"We had to get the secret code, which was a hellacious experience for our family," Capak said. "I understand why they need to protect victims, but it took me 2 1/2 hours of fighting with people to get the code. Nobody would give it to me, and I'm an attorney.
"Andy has some important friends down there," she added, mentioning St. Lucie County Sheriff Ken Mascara and Southern Eagle Distributing President Phil Busch. "But until I got that code, all I could find out was that Andy was in the building somewhere."
Capak said her brother underwent two major surgeries to repair damage to his colon, intestines and "pelvic area." He was shot twice in the abdomen, once in the thigh and once in the pelvic-groin area.
His spinal column escaped unscathed.
Two of the four bullets entered and exited his body. What happened to the two bullets that hit his abdomen, however, remains a mystery to doctors, Capak said.
"They couldn't find the bullets in his body, and they couldn't find where they came out," she said. "They have no answer. That's something that could come back to haunt him later."
Capak said her brother lost a lot of weight and muscle mass – especially in his abdomen – after the shooting. Though he has added some weight, he's still rebuilding his core strength.
For that reason, she said, it might be a while before customers at The Grove see him working behind the bar.
"He's not bartending yet," Capak said. "He's gone back to work on a part-time basis, but just fixing stuff and doing odd jobs. Standing for a long period of time might be a problem until he gets his core strength back.
"But that's his business," she added. "He's planning on coming all the way back, and his workers want him to return. Did you know his staff actually saved his tips from that night?
"I know my brother . . . He's not going to shy away from it."
And for those wondering: Yes, he still plans on getting married, though a new wedding date has not yet been set.
"He wants to be fully healed," Capak said, adding that her brother and Atteo might wait until 2018.
That's understandable, given the hardships the family has already endured this year: Not only has Janet Capak dealt with what she called "surgical issues," but her father, Gerald, has battled cancer.
Then her brother was critically wounded in a shooting.
"From a health perspective," Capak said, "2017 has been a terrible year for the Capak family."
The Vero Beach community, however, has managed to turn a tragedy into a triumph.
Only days after the shooting, upon learning that Capak's brother didn't have health insurance, one of his St. Edward's classmates and longtime friends started an online Go Fund Me campaign that has raised nearly $80,000 to help cover his medical expenses.
In addition, a wildly successful fundraiser was held at Grind & Grape on April 8 – the day Andy Capak was supposed to get married.
"We, as a family, are so overwhelmed by the response from the community," Janet Capak said. "A lot of the people who contributed didn't even know my brother. We have to find a way to let everyone know how much we appreciate all they've done."
Her brother's friends already know.
"They helped him get through this," Capak said. "And it wasn't just his friends from St. Edward's and around town. They came from California, New Jersey, New York . . . from all over the country.
"They were there when he needed them," she added, "and they really lifted his spirits."
Some have even joked that if one of them had to get shot, it's best that it was Capak's brother.
"They said he's been through a shark bite, a dog bite and now he's been shot," Capak said. "All he needs now is to be hit by lightning."
It's easy to laugh now that Capak knows her brother has survived the shooting and is recovering from his injuries. But there's still the matter of catching the gunman and bringing him too justice. Capak said she and her family have been in contact with the police and they're trying to be patient. They've been told the police have a suspect but want to be sure before making an arrest.
"Right after it happened, I remember thinking: These things don't happen in Vero Beach," Capak said. "Now they're happening here? What the heck is going on?"
Her brother is recovering. He's healing and getting stronger. Eventually, she believes, he'll get past the psychological and emotional trauma, too.
He survived.
For now, at least, that's all that matters.