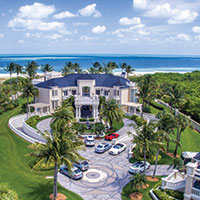 'Barcode lady's house' at south end of island to be sold in new auction
STORY BY STEVEN M. THOMAS
Photo: Aerial view of Palazzo Di Mare, commonly known by barrier island residents as "the barcode lady's house."

After more than 10 years on and off the market at prices ranging as high as $33 million, the grand south island estate commonly referred to as "the barcode lady's house" will finally be sold at the end of month in an absolute, no-reserve auction.
Concierge Auctions, which has successfully auctioned off eight homes in Vero in the past several years, including two this year that sold for more than $10 million each, will sell the 23,000-square-foot house at 2150 S. A1A on June 28.
A new wrinkle in the marketing is a special focus on attracting the participation of Chinese buyers in the auction.
That same day, Concierge will auction off a second, more modest home at 1880 S. A1A.
The larger home, which is also known as Palazzo Di Mare or simply the Nicholson estate, is currently listed on the MLS for $20 million, while the house and long narrow strip of land at 1880 S. A1A are now offered for $4,995,000.
Both homes are listed by the O'Dare, Boga & French team at Premier Estate Properties – Cindy O'Dare, Richard Boga and Clark French.
"The Nicholson estate is one of the largest properties we have ever sold," says French, who's also managing director of the private client group at Concierge.  "It extends from the ocean to the river, with 205 feet of frontage on both and a boat dock on the river. It's one of only two ocean-to-river properties in the estate section."
Concierge project manager Katie Lawless arrived in town this week to coordinate a worldwide marketing campaign to promote the June 28 auctions that will be similar to the efforts she led prior to the two $10 million-plus sales earlier this year.
According to French and Laura Brady, founder and president of Concierge Auctions, the for-sale Vero estates have been packaged into something called the China Portfolio, a dozen properties that are being specially marketed during June in hotel ballroom events in Hong Kong, Shanghai, Beijing and Guangzhou (formerly Canton).
"Roughly 8 percent of Concierge sales have been to foreign buyers and a number of wealthy Chinese are looking to put their money in U.S. dollar assets," says French. "Generally speaking some of the Chinese buyers are less price sensitive" than domestic buyers – which could be a good thing for the sellers in the upcoming auctions.
Palazzo Di Mare is owned by Sharon Nicholson, widow of William Nicholson, co-founder of Retail Grocery Inventory Service, now called RGIS, a leading inventory control company.
Sharon Nicholson bought the 4.84-acre tract where house is located, adjoining the northern edge of Round Island Park, in 1994. She spent seven years building and decorating her ornate mansion, which has approximately 23,000 square feet of living space under air and some 28,000 under roof.
According to a 2013 Wall Street Journal article, the house supposedly was inspired by F. Scott Fitzgerald's novel "The Great Gatsby," in which several luxurious waterfront homes on Long Island are described.
"The home has 32-foot-tall ceilings, a stained-glass bar, a soundproofed movie theater and a 14-car garage. There's also a solarium, a sky deck, a guesthouse, two elevators and a swimming pool with 14-carat gold inlays. The house is fronted by 205 feet of private beach," the article said.
Real estate agent William P.D. Pierce of Coldwell Banker Residential Real Estate's Miami Beach office, who had the home listed for $19,900,000 when the Journal article was published, said the house would be worth more than $100 million if it was on the ocean in Miami.
Palazzo Di Mare has loomed large on the Vero Beach real estate scene since it was built – literally and figuratively. Until the recent completion of a 44,000-square-foot home nearby, it was one of the two biggest homes in the 32963 area – rivaling in size the Wackenhut castle in Indian River Shores.
Sharon Nicholson first offered the estate for sale in 2007, listing it for auction with a starting bid of $33.5 million. She withdrew the house shortly before the auction, which never took place.
The following year, she listed the house with the South Florida office of the Corcoran Group for $24,900,000. That listing was withdrawn in 2009 and since then the house has been listed and delisted multiple times, with three different brokerages, at prices that gradually declined from $24.9 million to $17.5 million.
Last April, Naples-based DeCaro Luxury Auctions attempted to auction the house off, setting a reserve price of $12.9 million, but company owner Daniel DeCaro said prior to the auction date that "interest is not what we would have expected."
DeCaro said he was puzzled by the lack of interest. "It is a magnificent property. Where else in Florida can you get a house like this on five acres, beach to bay with a dock, for $12.9 million? If this house was in Naples it would be worth between $60 and $80 million. I am amazed something like this is available for this price."
Offered at 11 a.m. on Saturday, April 30, 2016, the house reportedly attracted few bidders and did not sell, but French says that outcome does not bode ill for the upcoming sale.
"Ours is a no-reserve auction, which makes a big difference in attracting buyers," he says, adding that, in his opinion, last year's auction failed because of insufficient marketing and because DeCaro failed to engage the local brokerage community.
The other home slated for auction on June 28 sits on a 65-foot by 750-foot, 1.12-acre lot that extends from A1A to the ocean.
According to county property records, Simon and Bronia Jenkins bought the property for $1,385,000 in 2002. It is now listed for $4,995,000, but will be offered without a reserve price, same as Palazzo Di Mare.
"It is a beautiful property with main house and recently built guest house, both in a style I would call coastal chic," says French. "There is an indoor pool and an outdoor pool and, I think, seven bedrooms total. It is a great family compound, and the current list price of five million is the lowest price point in the Estate Section."