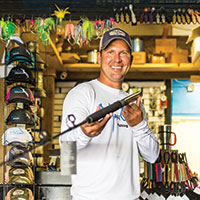 Former Moorings tennis pro focusing on fishing company
STORY BY RAY MCNULTY
Photo: Ousted Moorings tennis pro Robert Kowalczyk with a fishing rod that takes advantage of tennis racquet technology.

All Robert Kowalczyk would say about his sudden departure earlier this month from The Moorings, where he had spent the previous three years as the club's tennis director, is that he wasn't expecting it.
"I'm not allowed to get into it," said Kowalczyk, who spent two years as the club's head tennis pro before being promoted to the director's job in 2014.
In fact, when contacted last week, neither he nor Moorings General Manager Craig Lopes offered any details as to why Kowalczyk no longer works at the barrier island club near the south end of the county.
"We're a private club, so I can't discuss what happened," Lopes said, adding that the club is owned by its members. 
Lopes said the club already had received many applications for the job, which has been posted on the United States Professional Tennis Association's website, and they continue to come in from around the country.
He said several local teaching pros have applied and, although he has no specific timetable, he plans to fill the position later this summer.
As for Kowalczyk, who said he worked "60 to 70 hours" per week at The Moorings, he now plans to devote his time and energies to his budding fishing business – a venture he started four years ago, when he fused his livelihood with his lifelong hobby and pioneered a rackets-to-rods technology.
Having grown up in Vero Beach, where he was among the nation's top junior tennis players and often enjoyed fishing in the Indian River Lagoon, Kowalczyk began exploring the possibility of applying the latest racket technology to inshore rod design.
His goal was to find a blend of carbon fibers braided to create a lightweight, more responsive and more durable rod that he said "will revolutionize the fishing industry."
Kowalczyk said he "spent a lot of money on technology" and, after a year of experimenting with different fibers and manufacturers, he found the right formula and began selling the new-age fishing rods at local tackle shops and through a website and social media.
He changed the business' name from "Hooked Rods" to "ManOwar Fishing" in 2016 and, after teaming with Spencer Reilly – his Vero Isles neighbor and a local charter-boat captain – opened the fledgling company's first store in Vero Beach last summer.
Kowalczyk, 36, said he's now in the process of moving the full-service fishing store from the northwestern corner of Miracle Mile (next to Siam Orchid Thai & Sushi Restaurant) to a 10,000-square-foot building at 2360 U.S. 1, just north of the Royal Palm Boulevard intersection.
He said he now runs the entire sales operation, which he hopes to expand to include reels, hooks, terminal tackle, hats and apparel. Reilly, meanwhile, specializes in charter-boat fishing outings on which he markets ManOwar rods by making them available to guests.
Kowalczyk said he already has sold "thousands of rods," and now that he's no longer working at The Moorings, the fishing business will be his full-time job. He said "as of right now" he has no plans to return to teaching tennis.
"I'm focusing on my fishing business," said Kowalczyk, a 1999 Vero Beach High School graduate who went on to play tennis at the University of California after becoming the only player to win the national boys' 18-and-under clay-court championship twice. "I think there's a good future in this, and I'm going to give it my best shot."
Lopes, for one, said he's rooting for him to succeed.
"Robert is a good guy," Lopes said. "I've known him a long time and I like him."