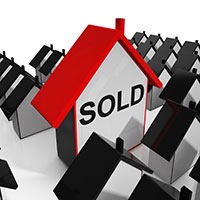 Island seeing uptick in California buyers; one wins Moorings auction
STORY BY STEVEN M. THOMAS

Island realtors say they are seeing more California buyers nowadays, as the relatively low cost of Vero Beach real estate and lack of state income tax in Florida lure retirees and others cashing out of their high-priced homes in the Golden State.
That trend was in play on June 3 when a California buyer bidding by phone was the winner in the auction of waterfront condo in The Moorings, paying $449,900 for a 2-bedroom, 2-bath, 1,800-square-foot unit in the Nor' West Passage complex.
The selling price of $449,900, less than 10 percent below the recent list price of $490,000, continued another island trend of absolute auctions – sales with no reserve price – yielding decent results for sellers.
When there is no minimum acceptable bid, more buyers tend to show up, hoping to get a desirable property for a bargain price.
"It was a very competitive auction," says Ron Rennick, who handled the sale. "We had about 50 people show up and four more bidding by phone, with their agents holding up their paddles."
Rennick says the auction was fast-paced, lasting just 10 minutes. "The bidding started at $200,000 and then went to $275,000, then $300,000 and then $351,000." 
From there, the price went up in $10,000 increments to $390,000, and then in smaller increments to the final price.
The California bidders winning offer was $409,000. The standard 10-percent buyer's premium upped the market price to $449,900.
"The buyers have rented in the Moorings for the past couple of years and their broker called them and told them this was an opportunity to get a good deal and a beautiful property," says Rennick.
Nor' West Passage, a 12-unit complex with its own pool, sits directly on the water at the tip of a peninsula. Looking out the back sliders, the new owners of the condo at 901 Bay Road No. 102 will overlook a mile-wide stretch of the Indian River Lagoon with clean water and healthy grass flats that offer some of the best fishing in Florida.
The ground-floor unit built in 1985 has a fireplace and glass-enclosed waterfront lanai and comes with a 1-car garage.
Though auctions – especially absolute, no-reserve auctions – have been in the news recently, with several high-end sales in excess of $10 million on the island, Rennick says there are actually fewer auctions in Vero now than there were several decades ago.
"In the 1980's, we sometimes did five a week and averaged as many as 180 auctions a year," he says. "Now it is more like 50 per year. Part of that is due to people who offer to buy distressed property for cash."
Nevertheless, Rennick's auction business seems to be fairly brisk. He says he has sold five or six homes on the island so far this year and has two more auctions coming up next week.
At 11 a.m. on Saturday, June 24, Rennick will auction another waterfront Moorings condo located at 402 Spyglass Lane in the South Passage neighborhood.
The 3-bedroom, 3-bath, 1,886-square-foot, two-story unit has balconies and porches that overlook Head Cove on the Indian River Lagoon and comes with a private boat dock.
At 2 p.m. the same day, Rennick will hold an absolute auction at 5601 Highway A1A No. 308 N. in the Robles Del Mar condo complex in Indian River Shores. The 2-bedroom, 2-bath unit built in 1977 has 1,637 square feet of air-conditioned living space and comes with an underground 2-car garage.
Four days later, on June 28, Concierge Auctions will offer two more island homes at absolute auction, both oceanfront.
One is currently listed at $5 million, the other at $20 million.