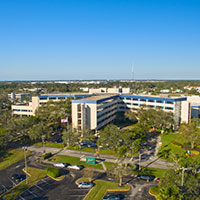 Plans of new owners of Sebastian River a concern for IRMC
STORY BY MICHELLE GENZ

It was probably not the offer of a free salmon dinner that drew such a large crowd to Costa D'Este Resort on a recent Wednesday night. What packed the hotel's chandelier-lit Crystal Ballroom was curiosity about Steward Health Care Systems, the rapidly expanding Massachusetts-based chain that recently bought Sebastian River Medical Center.
What attendees may not have learned was that the new hometown hospital chain was poised to become the largest privately-held for-profit hospital system in the nation.
Just two days after the Costa event, Steward signed a deal to acquire IASIS, a Franklin, Tenn.-based chain of 17 hospitals in five states spanning Louisiana to Utah. That total, added to the eight hospitals added in the Sebastian hospital deal, brings Steward's total to 36 hospitals in 10 states. Revenues for the consolidated group are projected at $8 billion in 2018, according to the company. The deal is expected to close this summer or early fall.
At Costa d'Este, doctors did hear about Steward's healthcare model of delivering affordable quality care through ACOs, or Accountable Care Organizations, and sharing the savings with physicians. The savings come from treatment plans that include healthcare outside of hospitals, including clinics, out-patient services, in-home care and preventive medicine.
Dr. Mark Girard, president of Steward Health Care Network, led the presentation at the oceanfront hotel. In a phone interview later, he said Sebastian River Medical Center is similar to the hospitals Steward runs in Massachusetts: community hospitals serving medium-size communities. "The populations are similar as are the doctor mix and the payor mix. This is a very replicable model."
Payor mix refers to the proportions of patients using private insurance, Medicaid or Medicare.
"It's a totally different business model from what this community has had before," said Dr. Val Zudans, an ophthalmologist. "It sounds very interesting and compelling."
Zudans said Steward passed out a sample provider agreement in which the doctor delegates authority to Steward to negotiate private insurance contracts. "The incentive is because they have negotiating leverage with insurance companies, they can get you higher reimbursement rates."
Beyond its care-giving and physician recruitment strategies, the secret to Steward's apparent success likely owes much to the deep pockets of Cerberus Capital Management, the private equity firm that backed Steward, which went into business in 2010.
The current growth spurt is a manifestation of Cerberus's effort to "cut Steward in two," according to Eileen Appelbaum, who is with the Center for Economic Policy and Research.
Last September, Cerberus sold Steward's real estate holdings to a real estate investment trust. Now, Steward leases back its hospitals from the REIT, meaning it has to pay rent before turning a profit on its healthcare services.
Steward has its roots in a nonprofit chain led by Harvard cardiologist Ralph de la Torre, who took over as CEO for the failing system owned by the archdiocese of Boston.
Torre's original mission was to provide less expensive care to working-class communities in Massachusetts. He proved visionary in his belief that healthcare shouldn't just focus on the sick; it should keep people from getting sick, saving money in the process.
The shared-risk plans he started with Blue Cross Blue Shield expanded to Medicare and Medicaid through Obamacare programs. He is frequently quoted as calling his business plan "an ACO on steroids."
Cerberus' deep pockets were tapped in 2010, when Steward Health Care Systems was formed as a Cerberus affiliate to acquire the Catholic hospital chain.
With the latest IASIS merger, should it go through, the Birmingham, Ala.-based REIT, Medical Properties Trust, stands to make its third major investment in Steward real estate, this one valued at $1.4 billion.
That follows its first purchase of nine Steward properties in Massachusetts, worth $1.25 billion. The 8-hospital deal in which Steward acquired the Sebastian River Medical Center, as well as Brevard County's two Wuesthoff medical centers, involved real estate worth $301 million. That deal, which closed in early May, gave the fast-growing Medical Properties Trust ownership of the real estate of 269 hospitals in the U.S. and Europe.
In all, Steward Health Care Systems employs 1,800 physicians with several thousand more "aligned" physicians – those who have signed on with Steward's accountable care programs.
That affiliation doesn't preclude doctors from also practicing at Vero's Indian River Medical Center. Nevertheless, at last week's IRMC Board of Directors meeting, a clearly concerned Dr. Hal Brown, IRMC's chief of staff, spoke of the presentation at Costa d'Este, which he said was attended by 170 doctors.
Brown brought up with an ominous tone a Massachusetts news story about a lawsuit filed by a small group of doctors who claimed Steward had not paid them bonuses and rent. He did not mention Steward's countersuit charging that officials of the doctors group, Compass Medical, had "knowingly received at least $3.5 million more than they were owed from Stewart," according to the article in the Boston Globe.
"We're hearing stories but we don't know if their relationships with physicians are what they claim to be," warned Brown. "This article suggests it is not."
The 50 Compass doctors are claiming more than $20 million in damages. Steward's network includes some 3,500 physicians.
Questioning Steward's financial stability, Brown then cited an absurdly low days-cash-on-hand figure of less than three days. But that figure for Steward – the last one they could find – was from 2014.
"Well, that's a lot of days ago," said Hockmeyer, laughing off the number. "So we don't know, bottom line."
"I think the take on this is different," Hockmeyer went on. "What I would take away is that we can't sort this out very well, but we know they're going to be aggressive [in seeking doctor affiliations]."
Steward's representatives made clear their contracts don't mean doctors can't follow a patient to the hospital of their choice. "We're fine with people having independent practices, making decisions in the interest of the patient. They just bill under the contract that we have."
Zudans, a doctor who went to the informational dinner, saw it differently too.
"I'm not necessarily signing up for their system, but I'm intrigued with it," Zudans said. "Their business model is they're not interested in buying physicians practices. Their goal is to have good relations with independent physicians. They want to find people who deliver cost-effective quality care. They don't want to buy them, they just want to work with them."
"I think there's a lot of excitement and enthusiasm in how we drive care efficiency," said Steward's Girard. "And how we drive value to the doctors as well. It's different from what patients and physicians are used to down there. This is not hospital-centric care. It's hospital-to-home care."