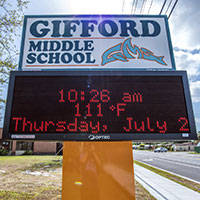 School District cleans house at Gifford Middle
STORY BY KATHLEEN SLOAN

Four months after Vero Beach 32963 began reporting on problems at Gifford Middle School, both the principal and assistant principal have been fired.
At the time the articles were written, School District Superintendent Mark Rendell and School Board members Tiffany Justice and Dale Simchick staunchly defended Principal Roxanne Decker, denying there were problems at the school.
But district documents released on May 23 show that employment contracts for Decker and Assistant Principal James Monds Smith were not renewed, and Rendell has since confirmed the firings, saying "it is time for new leadership" at Gifford Middle School.
Vero Beach 32963 reported problems at the school in a series of three articles, documenting serious discipline problems, dangerous conditions and exceptionally high teacher turnover.
The first article, published in January, included on-the-record comments from two long-time teachers rated "highly effective" by the district who said disruptions in their classrooms made it impossible to teach.
The teachers said they had been threatened and physically assaulted by students but that Decker would not take action because removing the disruptive students from regular classes would reflect poorly on the school.
Disciplinary referrals, arrests and alternative school placements were kept to a bare minimum to hide problems from the state Department of Education, the teachers said.
A second article, published in February, confirmed problems at the school, revealing that 10 out of 48 teachers at Gifford Middle, more than 20 percent, had already left – quit, retired or been fired – by the middle of the school year. By the end of the year, that number was up to 16, meaning a third of the teaching staff had fled the school Decker was in charge of during the school year.
The third article, which appeared in early March, quoted from a survey conducted by the Indian River County Education Association that was designed to elicit feedback from teachers on their principal.
Thirty-three Gifford teachers responded with comments including these:
"This principal is extraordinarily anti-teacher. She does not value staff input/opinions and regularly goes against teachers' input or suggestions. The mass exodus of SKILLED teachers over the years supports this statement."
"[Decker] seems to follow unquestioningly anything sent down from the . . . [district administration] office. She denies that there are problems when faculty presents concerns and she lashes out at those who speak up. Faculty is overwhelmingly afraid of retaliation for speaking up. This administrator is a bully and has become dangerous."
"This administrator routinely undermines staff, refuses to listen and continuously refuses to address student behavior on any meaningful level."
"I feel that the students at GMS are out of control and their chaos causes an unsafe environment. Likewise there are far too many students wandering around during classes unsupervised. Car and bus duty are both understaffed and I fear that a student is going to be seriously hurt."
"This has gone from an unfriendly, accusatory workplace to a dangerous, hostile work environment and this administrator should be removed from her position. ... Would love to elaborate but fear retaliation."
Despite those remarks from veteran teachers familiar with conditions at the school, Rendell, Justice and Simchick unaccountably continued to defend Decker and deny problems at Gifford Middle.
Rendell quibbled about the percentage of teachers that had fled the school saying it wasn't quite 20 percent, and Simchick was dismissive of  the two teachers who spoke on the record – the ones who said they feared for their own safety and the safety of their students – as "disgruntled employees."
Justice complained that reporting by Vero Beach 32963 had upset her daughter who was attending Gifford Middle at that time.
It was therefore somewhat surprising when Rendell called an emergency faculty meeting three weeks ago at Gifford to inform them Decker would not be returning as principal. Three sources, all wishing to remain anonymous, informed 32963 of the meeting, and the firing was confirmed by the May 23 school board agenda packet.
That document revealed the district was cleaning house at the supposedly well-run school, letting go both Decker and Assistant Principal James Monds, who were not listed among the hundred or so administrators Rendell recommended for reappointment.
A termination letter sent by Rendell to Decker on May 16 stated simply, "I will not be recommending the renewal of your contract for the 2017-2018 school year." The rest of the short letter refers to benefits. Decker signed the letter, acknowledging its receipt.
Asked why Decker wasn't reappointed, Rendell said, "As principal of Gifford Middle School, Roxanne Decker had a positive impact on the school and enacted much needed change. I believe that at this time in order for the school to move to the next level it will require different leadership. I value Mrs. Decker's work and hope that she will be able to continue to serve our school community in another role."
Gifford Middle School, located at 4530 28th Ct. in Vero Beach, had 812 6th-, 7th- and 8th-grade students in 2016. During the five years Decker was principal of the school, the annual grade it receives  from the state Department of Education trended downward.
Gifford received an A in 2012, the first year of Decker's tenure, a B in 2013, a C in 2014, a B in 2015 and a C in 2016, according to state Department of Education documents.
Rendell said he hopes to name a new principal and assistant principal by the end of June.
Decker and school board members did not respond to a request for comment for this article.