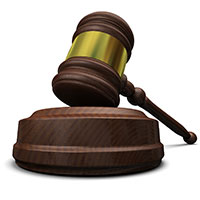 Sheriff and deputy are cleared in 2015 death of a prisoner
STORY BY RAY MCNULTY

A federal judge has ruled there was not enough evidence to support allegations of negligence or insufficient training in a wrongful death lawsuit filed by the ex-wife of a 37-year-old Vero Beach man who died in police custody two years ago.
U.S. District Court Judge Donald Middlebrooks, who previously dismissed three of the seven counts in the lawsuit, issued a summary judgment order in favor of the defendants – Sheriff Deryl Loar and Deputy Christopher Sharkey – on the remaining counts last week.
That means the case is closed and will not go to trial, unless Middlebrooks' rulings are successfully appealed.
The lawsuit was brought by Jill Alexander as representative of the estate of Mitchell Brad Martinez, who was found unconscious and unresponsive after being transported from the County Courthouse to the County Jail in a van driven by Sharkey on May 29, 2015.  He died four days later at the Indian River Medical Center.
Kevin Smith, Alexander's West Palm Beach-based attorney, said Monday he will file an appeal with the U.S. Court of Appeals 11th Circuit in Atlanta.
"We feel we have sufficient facts to get to a jury," Smith said. "I'm not going to get into specifics because we're going to appeal it and it's an open case."
Chief Medical Examiner Roger Mittleman conducted an autopsy on Martinez and, according to court records, determined the cause of death to be "cardiac dysrhythmia" due to an adverse reaction to Adderall, a drug often prescribed for attention deficit disorder.
However, a private pathologist, hired by Martinez's mother, performed a second autopsy and countered Mittleman's opinion, stating that the primary cause of death was a "short period of blunt force trauma to the neck," consistent with contact with a strap or belt.
However, in making his rulings, Middlebrooks found that there was "no evidence from which a reasonable jury could find" that Sharkey:
• Acted in "bad faith or with malicious purpose" or "took any actions with evil intent toward Martinez."
• Used "physical force" against Martinez, "attempted to injure" him through his driving, or made any stops during the eight-minute drive to the jail.
• Acted with "wanton and willful disregard for Martinez's rights or safety," or that the deputy "drove in a manner that would put an unbuckled passenger at risk of injury," much less that he did so intentionally.
In addition, Middlebrooks rejected Alexander's allegation that Sharkey acted with "deliberate indifference" to a risk that Martinez would take his own life, writing:
"There is no evidence that Martinez had ever threatened or attempted suicide, or had been considered a suicide risk. Furthermore, the undisputed evidence show that all deputies that had contact with Martinez reported that he appeared to be 'fine.'"
Middlebrooks also dismissed Alexander's claim that Loar's negligence in training and supervising Sharkey, who became a transport deputy in August 2010, made the sheriff "vicariously liable" for Martinez's death.
The judge cited testimony that Sharkey had "consistently demonstrated good knowledge of policies and jail rules, exhibited good judgment, made sound decisions, and correctly performed his duties," and that he was "noted to place security and safety at the top of his priorities."
There was no evidence, Middlebrooks wrote, that Loar had "any actual or constructive notice of problems" with Sharkey's fitness as a deputy.
"The court's ruling shows what we knew all along – that our deputies did nothing but try to save Mr. Martinez's life when they found him unresponsive," Loar said. "Deputy Sharkey and everyone who assisted with CPR that day are to be commended."
Sharkey could not be reached for comment.
Martinez, who was charged with three counts of aggravated assault in April 2013, was out on bail 25 months later when Circuit Judge Robert Pegg revoked his bond for contacting the victim in the case.
Remanded back into the custody of the Sheriff's Office, Martinez was still in street clothes when he was handcuffed in front of his body and his legs were placed in shackles. He and seven other inmates were loaded into a transport van at the courthouse.
Martinez was placed in a separate compartment, where neither deputies nor the inmates would have access to him during the short trip to the jail.
Middlebrooks' ruling describes in detail the loading process and disputes Alexander's claim that Sharkey left the sally port for "several minutes," writing in a footnote that "video evidence conclusively shows" Sharkey returned after only 55 seconds.
It also addresses the 69-second freeze in the sally port video immediately after Sharkey opened the door to the forward compartment for Martinez – a glitch that prompted suspicion of a cover-up.
However, Middlebrooks stated that the security camera in the hallway connecting the holding area to the sally port shows Sharkey walking back into the holding area only 14 seconds after the sally port video froze.
"When the sally port video resumes, the door of the front compartment of the van was closed with Martinez inside," Middlebrooks wrote. "The holding area video shows that no person went into or out of the sally port via the holding area, and no inmate exited the van, during the time Deputy Sharkey left the sally port."
The judge stated that Sharkey did not restrain Martinez with a lap belt because deputies usually give inmates the option of buckling themselves in, adding: "It is undisputed that Deputy Sharkey's entire interaction with Martinez at the courthouse was limited to telling him to watch his step getting into the van, Martinez stepping into the van, Martinez sitting on the bench and Deputy Sharkey closing the door."
Middlebrooks described the drive from the courthouse as "normal," without any unusual stops or detours. He wrote that Sharkey did not hear "kicking or banging coming from inside the van," nor did the deputy hear inmates in the rear compartment "make noise to get his attention."
Also, Sharkey was unable to see Martinez through the window in the front compartment "because several years prior, for security reasons, a black plastic bag had been taped over the window to prevent inmates from seeing where they were going," the judge stated.
In his order, Middlebrooks noted that four of the seven inmates in the rear compartment "heard Martinez 'coughing and hacking' during the trip."
Two of them said it sounded as if Martinez was "struggling to breath," though one said it was for five minutes while the other said it was for 10 to 15 seconds. Two others said they heard him coughing and making noises throughout the trip.
One of the latter two inmates said it sounded like Martinez was "choking and having a seizure."
Middlebrooks wrote that the three other inmates said they did not hear any noises from the front compartment, and that none of the inmates "did anything as a result of hearing the noises" to alert Sharkey to a potential problem.
Upon arriving at the jail, after escorting the seven inmates out of the van, Sharkey opened the door to the forward compartment and found Martinez "halfway seated on the floor area ... with his feet facing the door and his shoulder against the lower part of the bench, slumped over and making gurgling noises," the judge wrote.
When Martinez didn't respond to Sharkey's yell, the deputy radioed for help and began CPR, continuing until medical personnel arrived.
"At that time, there were no abrasions, cuts, scratches or bleeding on Martinez's neck," Middlebrooks wrote, "and no bleeding on his clothes."
An ambulance took Martinez to Indian River Medical Center, where, within hours of his arrival, a nurse who conducted a physical examination did not note "any marks around his neck," the judge stated.
However, a nurse whose shift started the next morning "noticed two reddish lines" around Martinez's neck and some bruising.
Alexander's lawsuit, filed with the Southern District of Florida, initially alleged intentional battery by Sharkey, use of excessive force by Sharkey, and violation of Florida's Wrongful Death Act by Loar.
In January, Middlebrooks dismissed the wrongful death claim against Loar. Then, last month, Alexander asked the court to dismiss the battery and excessive force counts against Sharkey.
Both sides requested summary judgments on the remaining counts.
"We hope this ruling," Loar said, "will give closure to the family for the unfortunate and untimely passing of Mr. Martinez."