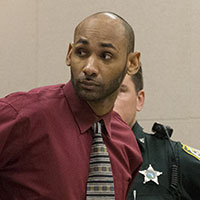 Simpson's convicted killer to be held here pending a new trial
STORY BY LISA ZAHNER
Photo: Henry Lee Jones.

The Fourth District Court of Appeals has finalized its ruling overturning the conviction of Henry Lee Jones for the November 2011 murder of Central Beach husband and father of two Brian Simpson.
Jones, 30, had been serving a life sentence, most recently in a state prison in Calhoun County near Tallahassee. As of Monday, Jones was being returned to Indian River County, where he was to be held in the local jail until a new trial.
He is scheduled for a court appearance on July 6, but Public Defender Diamond Litty said her attorneys will not be prepared to go to trial at that time.
"I think we will be asking for a continuance," Litty said, adding that her office had made both the court and prosecutors aware of the intention to seek more time.
The appeals court reversed Jones' 2014 conviction, saying the trial court erred in not permitting Jones' defense attorney to tell potential jurors that Simpson, the 41-year-old murder victim, was white,  or to question jurors about their attitudes about interracial violence to ferret out any bias or prejudice.
The Attorney General's Office argued during the appeal that Judge Robert Pegg did not in fact prohibit the defense from pursuing that line of questioning, but that after he shut the questioning down and scolded the defense attorney Dorothy Naumann for injecting race into the case, she did not choose to revisit the questions on interracial violence.
The three-judge appeals panel rejected that reasoning, and also rejected a motion for rehearing. On May 31 in response to the mandate, Jones' case status in the 19th Circuit was officially changed from closed to reopened.
An order was sent to the Florida Department of Corrections to send Jones back to Indian River County where he can have access to his legal counsel to prepare for a new trial.
Chief Deputy State Attorney Tom Bakkedahl could not be reached Monday for comment, but when the conviction was reversed in April, he said the state is ready to go trial immediately and that he deeply regretted the prospect of widow Kristen Simpson and her family having to endure another trial.
Bakkedahl had also said he doesn't anticipate any issues with the key testimony of Darius Robinson, who took a plea deal of 10 years in prison for burglary and assault and testified against Jones in the first trial. Robinson told the jury he was with Jones at the Simpson home on Fiddlewood Road when Simpson came home amidst the robbery, fought back, cornering Jones in the bathroom and was fatally shot through the bathroom door.
Bakkedahl said Robinson, a juvenile at the time of the crimes, has always been very cooperative and that anything but his continued cooperation would violate the terms of his plea agreement.
Since the November 2014 conviction, judges have been reassigned to different types of cases, so the new trial will be before Circuit Judge Cynthia Cox.