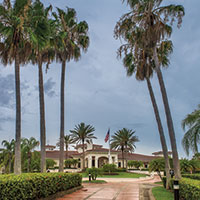 Summer storm clouds form over Grand Harbor
STORY BY RAY MCNULTY

Grand Harbor residents are up in arms after the club's development company and managers canceled popular summer reciprocal agreements with other area clubs and halted golf course improvements without consulting club members. They are also concerned about the loss of key club employees and the developer's failure to follow through on other community improvements.
Grand Harbor is one of the largest and most popular country club communities on the mainland and has long been seen as a jewel in Vero's residential development crown, but now members say things are going downhill.
The presidents of Grand Harbor's four golf associations, which represent nearly 550 active golf members, wrote a May 25 letter to the developer to express "dismay and disappointment" over the decision to cease Harbor Course improvements and suspend plans to expand the adjacent practice facility.
"Having terminated the Harbor Course projects in such an abrupt manner amid other recent developments of great concern to members has only served to suggest that the developer is uncaring, unreliable and unresponsive to the concerns of members who already have invested considerable resources in Grand Harbor," the letter reads.
"Members, who have relied in good faith on the developer to make good on representations made, reasonably could conclude that the developer may be unable financially to maintain and improve Grand Harbor facilities, or that the developer is simply unwilling to invest anything further in this community."
The letter was sent to Joseph Colasuonno, president of Massachussetts-based Baywater Development LLC, and copied to Jason Frandsen, Grand Harbor's general manager, less than a month after members were informed via email that the golf-course projects were put on hold "until further notice."
The April 28 email from BrightView, the management company that took over Grand Harbor's operations last month, offered no information as to when, or if, the projects would resume.
"Our members regard the withdrawal on the Harbor Course improvement as only the latest in a long line of unfulfilled promises for much needed improvements," the letter stated.
"In the past, we have been apprised of plans for a new fitness center, a casual bar and grill, major improvements to the beach club and expansion of the main clubhouse. At one time or another, the developer's representatives have mentioned these projects informally but none have ever been funded."
The letter also claims the irrigation systems on both courses are "failing and in dire need of replacement."
Of equal or even greater concern to many club members is the decision by the club's management to eliminate the wildly popular summer-reciprocal agreements with Riomar, The Moorings, Orchid Island, Bent Pine, Vero Beach Country Club and Indian River Club that allowed members to dine at those clubs and use their facilities freely, playing golf and tennis, enjoying swimming pools, beaches and marinas.
The agreements were abruptly discontinued May 1, again without consulting members who expected to enjoy the use of other clubs this summer.
Grand Harbor member Bruce McCashin said he was so frustrated by the elimination of the reciprocal agreements that he has discussed the matter with an attorney.
"The reciprocals are why I joined," said McCashin, a Central Beach resident who owns a condominium at Grand Harbor and has a social membership there. "They're a nice perk for the members, and they get used.
"Apparently, Grand Harbor isn't benefitting because more of our members are eating at other clubs than members of other clubs are eating at Grand Harbor," he added. "But whose fault is that? We had a great chef, and now he's gone."
McCashin said he has written emails to the club's management but hadn't received a response.
"They do this with no warning, no discussion with the members," McCashin said. "Then when you question it, you get no phone call, no email, nothing. They just ignore you. Nobody knows what's going on."
"That was the tipping point," said John Gammino, a Grand Harbor resident and member since 1999. "I think we would've worked through the other issues, but taking away the reciprocals threw people over the edge – because we had no input in the decision.
"That's what got people concerned," he added, "and it made them more vocal about the other things."
Those "other things" include the staff turnover that has seen the departures of longtime tennis director Christophe Delavaut, golf-club personnel and chefs.
Several Grand Harbor members interviewed – some spoke only under the condition of anonymity – said the changes have diminished the quality of the club and threaten its reputation, despite recent increases in annual dues and food minimums.
Club manager Frandsen did not respond to two voice-mail messages left at his office.
"You're not going to hear from him," one longtime resident said. "He has no control over this. These decisions are being made way above him."
Gammino said the decisions made by Baywater and BrightView don't make sense, especially when they're trying to sell real estate.
New homes are being built in The Falls, Grand Harbor's newest community, located west of Indian River Boulevard. Home sites also are still available in The Reserve and River Village Estates communities.
"As much as we need the developer to keep this place at a high-quality level, the developer needs us to help sell homes," Gammino said. "Word of mouth is still the best advertising. Not only myself, but I know of several other residents who've brought their friends down here."
In fact, the golf associations shared that sentiment in their letter.
"Surely, the developer knows that among the most-effective sales people are the Grand Harbor residents eager to recommend Grand Harbor to family and friends," the letter states. "But as our trust in the developer erodes further, so also will our likely willingness to entice other to invest in this community."
Gammino said that while he and other Grand Harbor residents are concerned, they're not ready to give up on the place. "Grand Harbor has two wonderful golf courses, a tennis club, a beach club, a marina . . . and the property is beautiful," Gammino said. "The people here are great. We love the lifestyle. This is our place. We love it here.
"That's why this is a double-edged sword for us," he added. "We want the developer to keep up his end of the bargain, but we don't want to damage the reputation of the community.