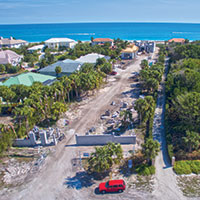 $9.9 million spec home being built on South Beach
STORY BY STEVEN M. THOMAS

Developer Mariann Casarella went on what she calls an "intergalactic search" to find the perfect spot to build her next luxury spec home – starting in Wilmington, North Carolina, and driving her Mercedes all the way down the coast to South Florida, checking out likely sites.
She found what she was looking for when Premier Estate Properties broker/associate Clark French showed her a rolling 2.3-acre lot in the estate section of Vero's barrier island.
"Clark took us to the right place at the right time," says Casarella. "We had an offer written up within 15 minutes after arriving at the property that the owner accepted."
She closed on the land in October 2015, paying the bargain price of $1,975,000 for the 1,000-foot-deep lot with 100 feet of frontage on the Atlantic Ocean where there is a wide, accreting beach.
Nine months later, in August 2016, permits were issued and work began at the site, with massive retaining walls going up to hold in place more than 10,000 cubic yards of fill used to raise the level of the lot 20 feet above sea level.
"The views from the first floor are like second-floor views in most houses," says Vic Lombardi, owner of Waters Edge Estates, who is building the 8,400-square-foot transitional-style home, the biggest spec home to go up on the island since 2012. 
Casarella, who is from the New York City area, had already fallen under Vero's spell during visits to the town before she decided to build here and her appreciation has steadily increased. "I told my husband that building this house has been just wonderful, because it has really immersed me in the community. The more I am here, the more I love it. I can't say enough nice things about Vero Beach.
"When friends come to visit, they can't believe it. I drive them down Painted Bunting and Sandfly and they are blown away by the botany. Their eyes are not big enough to take it all in. They are just stunned by the charm of the place. I feel Vero is the best kept secret in the world."
The admiration is mutual.
"We are thrilled to have someone with the kind of sophisticated design sensibility and deep knowledge of the luxury home market that Mariann brings come here and build a house like this," says French. "There hasn't been anything done on this scale for several years and there is nothing on the market at this price point. With her background and experience, she is bringing something new we have not seen in Vero and we are looking forward to presenting the house."
Casarella's sense of design and her construction experience began at young age.
"I grew up in New York in a family of seven children," she says. "My father was a physician who didn't have time to do things around the house so we kids helped out. When I was 8 years old, my mother said she wanted the dining room wall papered and I said I would do it – and they let me!"
She flipped her first house – in the Bronx – when she was 19, selling it for two and a half times what she paid for it after fixing it up.
"I rolled that money into the next project and just kept going," she says.
Casarella was going to college at the same time and ended up earning a Ph.D. in Cognitive Psychology as part of a career that culminated in a job as a school district superintendent even as she continued building and renovating houses in the tony suburbs around New York City.
Since retiring from the school district in 2002, she has been a fulltime developer, operating Sonnett Manor Construction Corp.
"I have developed approximately 40 new-build homes and done full-gut renovations on approximately 30 homes," Casarella says. "These new-build homes were at the top of the market for the areas in which they were located – primarily in Westchester in communities such as Rye, Purchase, Harrison, Armonk, Bedford, Pound Ridge, New Rochelle, Tarrytown and White Plains. I have also built in the Naples area of Florida."
Here in Vero, advised by French and his partner Cindy O'Dare, Casarella put together a team that includes Lombardi and Bill Stoddard of Schulke, Bittle & Stoddard LLC engineering.
The shell of the house is nearly complete and Lombardi says he aims to finish the project by the end of summer.
Built on a foundation that includes 110 concrete and steel piers and a massive grade beam, the house is further solidified by poured-in-place concrete floors heavily laced with steel rebar and concrete beams at the top of the first- and second-floor walls that lock the structure in place and prevent any possibility of "racking."
"With this foundation, we could go up 10 stories if we wanted to," says Lombardi.
"If you are ever stuck on the island during a hurricane, go to that house," French says.
The structural integrity has market value, according to French. Savvy buyers demand high-quality construction, especially by the ocean, and Lombardi has emerged in the past few years as Vero's pre-eminent oceanfront builder, with multiple projects underway at present, including the 11-unit Surf Club townhome community on A1A north of Jaycee Park.
"The strength of the building is a definite selling point," French says.
But, of course, buyers will be swayed most by the finished look and features of the home, which is where Casarella comes in. She drew the plans for the house on a CAD system while in New York and then collaborated with a local architect to make sure everything meets Florida's stringent building codes.
She has packed the house with top-quality materials and high-end details – stone and hardwood floors, custom cabinetry fabricated in Canada that will arrive with a specialized team of installers, the best impact-resistant windows and doors Anderson makes, with a finish guaranteed for life in the ocean environment – that take six pages to list on the plans.
"I have a sense of what will be aesthetically appealing in today's market," Casarella says. "I am a devoted reader of trade magazines. I belong to the Builders Association and I go to all the national trade shows."
One clue to the quality and appeal of the home: Along with the expected suite of high-end appliances and luxury finishes, the kitchen will include a $17,000 La Cornue La Flamberge gas rotisserie, an exceptional gourmet cooking device that will sell the house on its own to the right buyer.
Outside there is a gatehouse; a long, winding, palm-lined driveway that comes up over a natural dune to reveal the house in a dramatic fashion; an extensive oceanfront loggia with a sumptuous summer kitchen that includes a 114-inch French Chateaux exhaust hood; and a 40-foot vanishing edge pool with jetted spa that was positioned based on a sun study to maximize usage.
French and O'Dare have the home listed for $9.9 million and are getting the word out through their sales network, especially to buyers in South Florida where a similar property would sell for two or three times as much, but they are being cautious about showings.
"You only get one chance to make a first impression," French says, "so we don't want to bring people out too soon."
"Up north, I never let anybody into one of my houses until it was 100 percent done," says Casarella. "When it was finished, there was a broker's open house and we sold it that day. That has been my formula."
"We will sell it and when we do it will attract more people to Vero Beach," says French. "People will see it and say, 'I want one of those, too.'"