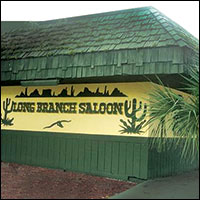 Ay Jalisco owners plan Caribbean cantina for old Long Branch
STORY BY KATHLEEN SLOAN

Gloria Huitron and Pedro Nevarez, the couple who own the popular Ay Jalisco Mexican restaurants, have purchased the Miracle Mile building that long housed the Long Branch Saloon and plan to turn it into a Caribbean-themed restaurant with live music and dancing tentatively called "Tahinos."
Huitron and Nevarez purchased the Long Branch building on March 6 for $600,000, and are already at work remodeling it.
"We're still working on a name, but the furnishings will definitely have a Caribbean theme," Nevarez said.
The new place will offer an international menu, all from hot climates. "We would like to bring a fusion of Peruvian, Columbian, Spanish, Cuban and Italian Mediterranean food," said Nevarez, who is a chef. "We'll serve a few Mexican dishes too. Why not?"
Live country and other types of music will be offered, as well as Karaoke, continuing the Long Branch's tradition of having one of the few dance spots in Vero Beach and the only one in Miracle Mile. "We're going to make the dance floor look real nice," Nevarez said.
Patricia and Dennis Silver owned the Long Branch Saloon for 30 years, but decided to shutter the popular neighborhood bar and restaurant last August after running into trouble with the law for illegal gambling activity.
"I've had a good run," Dennis said at the time. "It's time for a younger person to come in here and take over."
Huitron and Nevarez own several Ay Jalisco! Mexican restaurants locally, as well as a Mexican grocery store on Highway 60 and Agave Fresh Mex in Ormond Beach.
Nevarez does most of the booth, table and partition design and woodwork in his restaurants.
Silver used specialty woods for the bar and much of it will be retained, he said.
Lambert Commercial Property agent Billy Moss, who specializes in brokering restaurants, represented both sides in the transaction.
"Selling a restaurant can get very emotional," Moss said, "but in this case all the feelings were good. It was one of the nicest transactions of my career. The owner was ready to pass the torch, but he was selective about who would buy his place. He wanted it to go to someone who would bring it forward."