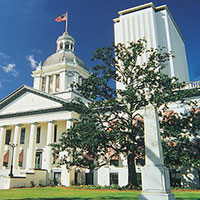 Bill would strip power from Vero and county
STORY BY LISA ZAHNER

A bill filed that would prevent local governments from passing any new business regulations after July 1, and that would wipe clean all but state-approved regulations in 2020, has sailed through its first legislative committee hearing in Tallahassee.
The City of Vero Beach, City of Sebastian and Members of the Board of County Commissioners have all taken issue with the bill, saying it would threaten their ability to shape regulation to the types of commerce and industry local communities want – or more importantly, don't want.
The Florida League of Cities and Florida Association of Counties have put this threat to home rule, and its originator Rep. Randy Fine from Brevard County, squarely in their crosshairs, taking to social media and encouraging constituents to flood Tallahassee with pleas to stop the bill from advancing.
House Bill 17 proposes two things.  The first is a deadline of July 1 for local governments and agencies to pass or strengthen ordinances regulating businesses operating within their jurisdictions – unless a state law already grants those specific powers to the local government. After July 1, the state preempts all power to regulate businesses, unless expressly granted via state law.
The second thing the bill would do is sunset all stand-alone local business ordinances and regulations as of July 1, 2020. That would give local governments three legislative sessions to convince state lawmakers to either regulate particular activities via state law, or to grant specific powers to regulate those business activities to the city and county governments by passing a law to that effect.
The bill hearkens back to the chaos created locally when in 2011 the Florida Legislature passed a law preempting the regulation of transient or vacation rentals of fewer than 30 days, but grandfathering in any local ordinances already in place before the bill's passage.
Since then Vero has battled in court with homeowners and the county has stiffened parking and licensing regulations to get around not being able to prohibit what it considers a commercial activity in private, residential neighborhoods.
The reasoning behind the latest legislation is that different regulations in every little town, village, city and county put a huge burden on small and large businesses that operate across the borders of, say the city and the county, because a business would have to know the difference between city code and county code so they don't run afoul of either.
A business that serves communities in more than one county, for instance a contractor with headquarters in Vero, who also serves customers in Fort Pierce, Sebastian, Barefoot Bay, Grant and Indian River Shores, must follow not only the regulations of numerous municipalities but three counties in the unincorporated areas.
Rep Erin Grall weighed in on Monday, saying, "I am concerned that House Bill 17 will have a substantial negative impact on communities throughout the state and hinder the ability of Floridians to make choices about the type of community in which they want to live.
"This legislation is a response to some local governments that have burdened businesses with unwarranted, costly regulations. Local governments must consider the impact their decisions have on the business community and work to support a healthy economy," Grall said. "I am confident our local elected officials take this responsibility seriously and that the voters will hold them accountable."
In short, state lawmakers are trying to live up to campaign promises to create a business-friendly environment, while hoping to avoid angering the folks back home who may feel their quality of life could be threatened.
County Attorney Dylan Reingold told commissioners the bill, should it pass both legislative houses and not be vetoed by Gov. Rick Scott, could severely limit Indian River County's ability to prohibit things like adult entertainment or medical marijuana. He also noted that county officials worked hard to clamp down on pill mills while they flourished in other parts of the state.
"We have been tracking this bill. The Board discussed HB 17 at the Feb. 21 meeting," Reingold said. "The Board has not done anything specific with respect to this bill, as the Board already has as one of its guiding principles that the County supports maintaining the integrity of county home rule power, both administrative and fiscal, which allows counties to develop and implement community-based solutions to local problems."
House Bill 17 was amended in committee to give city and county governments a few months to strengthen or tidy up their existing ordinances, or pass new ones, but that committee substitute must next be heard by the House Commerce Committee. A companion Senate Bill 1158 has not yet been heard by the four Senate committees that would need to approve it.