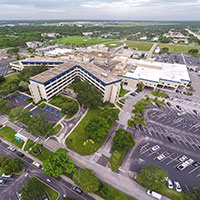 Hospital reports progress in negotiations with insurers
STORY BY MICHELLE GENZ

In Indian River County, where around a thousand babies are born each year, couples may endlessly debate names and pore over paint swatches for the nursery. More than likely, though, they will not have to think about which hospital to go to:  only one does labor and delivery, Indian River Medical Center. The only other hospital, Sebastian River Medical Center, stopped performing deliveries years ago.
That's why last month, when IRMC quietly put one of its four largest insurance companies on notice of termination, for some county residents, a trip to the hospital to have a baby started to look a lot longer and a lot more expensive.
Termination would have meant the hospital was no longer an in-network provider for those insured by that unnamed company, forcing patients to pay much higher out-of-network costs, or search for another hospital – for labor and delivery, that would mean Fort Pierce or Melbourne.
The notice of termination strategy is a common one in negotiations for higher reimbursement rates, the amount insurers reimburse hospitals for their services. IRMC would not say which insurer had balked, or when notice would expire, but odds are excellent it was less than nine months.
That state of limbo has lifted, at least for now. Late Friday afternoon, after repeated inquiries by 32963, the hospital made it known that negotiations had begun with that fourth insurer. IRMC expects to know within 30 days if a new contract will be signed, keeping the hospital in-network with that still-unnamed insurer.
"The fourth payer is back to the table – it all sounded promising to me," said Hospital District Board Chair Marybeth Cunningham, after a call to hospital CEO Jeff Susi. The negotiating scorecard with the four companies stood at "two there, one very close and the other in the works now," said Cunningham.
It was Cunningham who proposed last month that a collaborative committee of District and hospital officials take a hard look at the hospital's future options, including whether to sell. That self-examination, following a first-quarter loss of $4 million and Susi's announced retirement, is currently underway. A recommendation is expected in early fall.
Hospital management's move to put the insurance company on notice, while risky, appears to have worked for now.
When the strategy doesn't work, an epic fail can result. Orlando's Florida Hospital System, a 23-hospital non-profit chain that some say IRMC should be part of, has had its own taste of brinkmanship. Owned by the Seventh-Day Adventist Church and known as a tough negotiator, its patients have sometimes paid the price. For three years, starting in 2004, it left some 40,000 patients in the lurch when it terminated its contract with Florida Blue Cross Blue Shield HMOs.
Unlike IRMC – which last week said it would give patients "at least 30 days of notice" of an insurer going out of network – Florida Hospital did not notify the thousands of patients potentially affected.  It sent out letters of warning to its medical staff more than three months before the contract was set to expire, but left notifying patients up to the doctors.
"You've got two conglomerates that don't care about who they're serving. They care about the dollars," said one disgusted patient, quoted in the Orlando Sentinel, who had only found out about cancelled coverage through his primary care physician.
IRMC's spokesman Lewis Clark gave some reassurances that even in the worst-case scenario, in-network coverage could be extended, though he did not say by how much or for whom.
"We do not anticipate that IRMC's patients will be out-of-network," he wrote by email last week. "In the unlikely event that would happen, there are protections in our current contracts which provide for continuity of care for our patients."
It was the not the first mention of patients suddenly finding themselves out of network at the taxpayer- owned hospital, though until now the concern seemed more about a public outcry than patient care.
The hospital's newly appointed CFO George Eighmy broke the news of going "non-par" – not participating with the fourth insurer – to the Hospital District board last month. "You may hear some noise in the community related to that, but that's really our only option," Eighmy said.
Asked why the hospital couldn't name the balking insurer then, Susi seemed disinclined to even give the public warning of the looming out-of-network status. Despite the 30-day notice policy announced on Friday, Susi told the District board last month, "I think if we get to the end of the notice period and we haven't gotten back on line, then I think it will be very public."
Thirty days' notice is an improvement over what sounded like a bombshell-by-proxy policy. Still, it seems scant for patients already anxious about an impending child birth.
"It would be good to know two or three months in advance of a contract ending," says Dr. James Presley, one of six practicing obstetricians in the county and the only one who is not an employee of the hospital.
"People need some time to think about whether they're going to transfer to another doctor. If they decide they're going to stay with me and have the baby at Indian River, then they need time to make financial arrangements for a cash pay. Around 28 weeks, it starts getting pretty serious for these women. I start to see them every two weeks. If they lose a major payer, before it happens, I'd like to know who it is."
If the fourth payer now in negotiations raises reimbursement rates significantly, the financial health of the hospital seems certain to improve.
That's because of how commercial insurance fits into IRMC's "payer mix," the proportion of privately insured patients to publicly insured – those on Medicare and Medicaid. A fourth group, the indigent, is paid for with taxpayer money levied by the Hospital District; still another segment never pays at all.
Only one-fifth of IRMC's patients have commercial insurance. That's an unusually low number.
But with Medicare and Medicaid reimbursements barely covering costs, commercial insurance becomes a significant source of revenue. How significant is a closely guarded secret; reimbursement rates are strictly confidential. They are negotiated from an even more arcane unknown: the hospital chargemaster, a constantly updated "list price" of charges created by individual hospitals for the thousands of items and procedures they deliver.
Many health care experts call chargemasters grossly inflated and seemingly arbitrary to the point of fiction. A 2015 study by the federal agency in charge of Medicare and Medicaid, CMS, found that chargemaster prices could vary wildly even in the same region, with the highest priced hospitals charging five times as much as the lowest priced for the same procedure.
One Jersey City hospital, part of the Carepoint chain, charged more than $200,000 to treat severe sepsis, when the national average was $48,500; one U.S. hospital charged only $7,000.
While those list charges are significantly discounted in insurance contracts like the ones Susi and others are negotiating now, a patient who by choice or necessity ends up at an out-of-network hospital could well be hit with chargemaster pricing. And those insured with high-deductible plans could be stuck paying full price, as could the insurer if contract pricing isn't in place.
In Florida, chargemaster pricing is typically three to four times higher than insurance reimbursement, according to an article last year in the Florida Bar Journal with an unflinching headline: "Remedies for an Epidemic of Medical Provider Price-gouging." (It goes on to discuss whether list-price billing of uninsured patients is actionable fraud.)
The now-infamous list compiled by the Washington Post in 2015 of the nation's 50 most expensive hospitals revealed 20 were in Florida – including tiny non-profit IRMC's two closest competitors: Lawnwood Regional Medical Center in Fort Pierce and Sebastian River Medical Center, both then part of huge chains (Sebastian River just sold to a small for-profit chain, Steward, whose majority ownership is held by the private-equity firm Cerberus, with $40 billion under management).
Both of those nearby hospitals charged close to ten times the amount that services actually cost them, far, far above the national average charge of 3.4 times the hospital's cost.
Since that study, a movement for transparency in hospital pricing has taken hold in some areas, including Florida. Some experts are advocating publishing the negotiated reimbursement rates so that patients and employers can shop around for lower-cost care.
For years, hospitals have been trying to accumulate enough individual statements – through crowdsourcing, for example – to calculate a competing hospital's reimbursement rates. That's a handy number to know in negotiations with insurers. But it was essentially impossible to pin down until recently, when new state law made more numbers public.
IRMC's former CFO figured out the hospital was only getting back from private insurers 147 percent of amount Medicare reimburses, as compared with close to 300 percent at Sebastian River, its closest competitor, and 400 percent at Lawnwood.
If IRMC's negotiations with insurers are successful, according to Eighmy, reimbursement rates could be upped to 200 percent.  That could add as much as $5 million in revenues this fiscal year, he told the Hospital District board.
"It would be great for the financial viability of our hospital," said Dr. Val Zudans, an ophthalmologist and former Hospital District trustee, who was ousted in the last election. Zudans has long advocated IRMC joining a larger hospital group like Florida Hospital System for greater bargaining power with insurers.
But if IRMC is able to negotiate rates of 200 percent, they would be the same as Florida Hospital, Zudans said. "Management would deserve much praise."
Zudans used a different tone when he spoke at the same District meeting last month when hospital officials announced a large payer was simply refusing to negotiate. Zudans was fearful the payer could be Florida Blue, a behemoth covering two-thirds of the county's patient population.
Why would any insurance company walk away from negotiations, knowing a vast number of customers might change to another company? Because those patients tend to be the most expensive to cover, analysts say. They're the ones urgently needing medical care. Healthy patients may stick with the insurance they have since they rarely if ever need a hospital.
Insurance companies' out-of-network rates are based on the chargemaster, not the discounted rates they negotiate in-network. Many insurers also tack on higher deductibles, coinsurance and copays for out-of-network providers.
Those out-of-network rates would slam the budgets of new parents, already saddled with other new childcare expenses, and young families are a significant part of IRMC's patient population.
While baby-birthing has not always been the most profitable offering at hospitals, when done right it does establish brand loyalty. New moms who feel pampered by touches like the pink or blue knit baby beanies to take home, or the personalized keepsake cards in the bassinets, are more inclined to think well of IRMC when a tonsillectomy looms.
With luck, the full complement of insurers on board at negotiations means those contractions can get a little bit closer together before heading out the door with the Lamaze bag; Fort Pierce and Melbourne are a long way away in labor.
If Susi, who recently announced his retirement as CEO by the end of this year, has a lasting legacy beyond all the funds he helped raise for hospital expansion, it could be these higher reimbursement rates.
If the impact is as dramatic as hoped, they could at least for the moment turn around the hospital's finances, and potentially convince the collaborative committee not to sell.