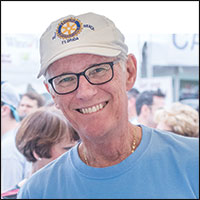 Lagoon loses its devoted champion in Paul Dritenbas
STORY BY SAMANTHA ROHLFING BAITA
Photo: Paul Dritenbas

The death of Paul Dritenbas last week, at age 65, has left the Indian River Lagoon without one of its most devoted and outspoken champions. The architect, fishing guide and former FIND commissioner died at his home in Vero Beach, with his family by his side, following an extended illness.
"Paul had a big heart for the Indian River Lagoon and he will be missed," County Commissioner Tim Zorc wrote in an email to Vero Beach 32963.
Dritenbas was a true environmentalist, who walked the talk when it came to issues he believed in. This was the thread that ran though virtually every aspect of his life: a passion for the local environment coupled with a broad knowledge of the lagoon and its fragile ecosystem, and a deep concern that the loss of seagrass in the lagoon, if not stopped, would lead to the ecological collapse of the waterway that is the economic and aesthetic lifeblood of the Treasure Coast.
Born in Bridgeport, Conn., Paul Ulrich Dritenbas came to Vero Beach as a child. After graduating from Vero Beach High School, he attended Indian River Junior College and then enlisted in the U.S. Air Force, serving his country during the turbulent Vietnam era.
When his tour ended, Dritenbas came home, returned to school and earned a degree in architecture from the University of Miami.
In 1982, he joined the Vero Beach firm of Gregory D. Edlund, Architect, which later became Edlund, Dritenbas, & Binkley Architects. Dritenbas managed the firm for 34 years, serving during that time as a state director of the American Institute of Architects and as president of the group's Treasure Coast Chapter.  Always environmentally mindful, Dritenbas specialized in sustainable designs for a variety of structures.
Dritenbas' interests included trail biking, antique car restoration, woodworking, music, diving, Miami Hurricane sports and Little League Baseball. But boating and fishing were what he loved best.
In addition to his architectural practice, he operated Reel Life Charters as a captain and fishing guide for many years, before turning the business over to his sons. Having fished the lagoon for more than half a century, "Captain Dritenbas" saw firsthand what was happening to the water and its inhabitants, and he wasn't afraid to speak out about it.
But speaking out was by no means all he did.
In 2012, almost all the seagrass in the lagoon from Grant south to the 17th Street Bridge was wiped out by algae blooms. Dritenbas, who was president of the Sunrise Rotary Club at the time, mobilized his club, as well as the Rotary Club of Vero Beach, in a project called RISSA – Rotary Initiative for Submerged Seagrass Awareness – to protect the surviving grass flats near The Moorings by installing buoys and warning signs to keep powerboats from damaging the lush underwater meadow.
Dritenbas also developed a design for oyster mats, hand-crafted the prototype, and coordinated installation of the mats in carefully chosen locations along the Lagoon, in an effort to increase the oyster population as a means of cleaning up the water. Individual oysters filter up to 50 gallons of water a day and they colonize and grow on the shell mats.
A tireless volunteer with several environmental organizations, Dritenbas spent countless hours promoting the oyster mat project to local governments and organizations, and guiding adult and youth volunteer teams in assembling and placing the mats – an effort that contributed to improved water quality and return of seagrasses in some area. 
"Paul Dritenbas set the example for all fishermen in taking a major role in protecting the environment essential to their own hobby and interests, as well as the community's social and economic benefit and nature's survival," said Dr. Richard Baker, president of the Pelican Island Audubon Society.
"In collaboration with Indian River County and Rotary International, Paul established a 'no motor zone' area in the Moorings Flats and Oslo Road Boat Ramp area to save the seagrass habitat for fish and to protect the manatee. For this fine work, the Pelican Island Audubon Society gave Paul the Environmental Citizen Award in 2013."
Until he became ill, Dritenbas was Indian River County's representative on the Florida Inland Navigation District Board. In that position, in 2013, he opposed the County Commission's ill-fated attempt to expand parking and increase motorized boat traffic at the Oslo Road Boat Ramp.
Dritenbas felt the County had gone too far in its plan to fill in wetlands and encourage more power boats, and suggested the existing ramp, parking lot and dock were sufficient for more appropriate non-power watercraft. A number of environmental groups and local scientists agreed, and the project was never undertaken.
"I am so thankful for Paul Dritenbas, for all that he did," said John Binkley, Dritenbas' longtime business partner. "He was a great man. He will be missed, but he will not be forgotten."