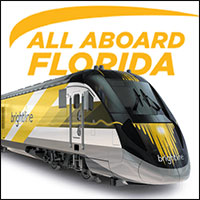 Rail safety bill a nightmare for All Aboard Florida
STORY BY LISA ZAHNER

Vero's legislators are hoping to get the state to impose safety regulations on the All Aboard Florida high-speed rail project to protect local communities in the train's path, and shelter taxpayers from funding needed safety upgrades.
Florida Sen. Debbie Mayfield and Florida House Rep. Erin Grall are pushing bills in their respective chambers that would assign more of the burden of rail crossing safety equipment, fencing, disaster preparedness and reporting accountability to All Aboard Florida operators.
The bill would expand the Florida Department of Transportation's authority over companies that run trains over the same freight tracks that carry hazardous cargo such as natural gas and chemicals.
Currently, Vero Beach and Indian River County face tough decisions about whether or not to create "quiet zones," plus address numerous unanswered questions about rail crossing plans, potential costs and impacts on public safety and the environment from a train that would thunder past an archaeological site, delicate historic structures, wildlife habitat and through a business and entertainment district.
The train would also at least slow residents west of the railroad tracks from getting to an emergency room east, causing first responders and the firefighters' union to oppose the train. All this on top of the increased potential for a mass-casualty incident should a train derail and hit a structure, collide with another train or smash into vehicles or pedestrians.
"I find it quite astounding that Florida does not have any measures in place to address high-speed rail when there is a statewide project underway that will crisscross through my community, many others between Miami and Orlando, and potentially up Florida's entire east coast," said Sen. Mayfield, adding that she has seen nothing convincing put forth by All Aboard Florida on planned safety measures.
"This legislation is really designed to protect all Floridians from accidents and injuries at these dangerous railroad crossings across the state."
Though members voiced their concerns on record about the bill's far-reaching implications and about overlapping state jurisdiction with federal and local authorities, an amended version of the bill passed the Senate Transportation Committee 4-0 last week.
The Senate bill is now in the hands of the Community Affairs Committee and would also need to be prioritized and passed by the all-powerful Appropriations Committee. House Bill 269, entitled High-Speed Passenger Rail, has been assigned to the Transportation Infrastructure Subcommittee. The House bill would need to pass through a total of three committees.
County Commissioner Bob Solari and Assistant County Attorney Kate Pingolt Cotner traveled to Tallahassee to support the bill, but did not speak as the Senate Transportation Committee was pressed for time and seemed favorable to the bill. 
Citizens Against Rail Expansion in Florida (CARE) got very excited about the Florida High Speed Passenger Rail Safety Act passing this first hurdle. Chairman Brent Hanlon thanked Mayfield and said, "The unanimous support the bill received in committee today highlights the importance of ensuring that all Floridians are protected from accidents and injuries at dangerous high speed rail crossings across the state.
"This is not just about our community which will be negatively impacted. This legislation will address public safety concerns in any community across the state. This bill also addresses another very important issue – cost. Any so-called privately funded project should not shift costs to the taxpayers," Hanlon said.
All Aboard Florida spokesman Rusty Roberts spoke at the hearing, saying that the bill unfairly targets his company, and that it would contradict long-standing or recently inked cost-sharing agreements between AAF and local governments.
Entities like Vero and the County currently split the routine costs of maintenance of the crossings used by freight trains, but those decades-old agreements never contemplated 32 trains per day barreling through town at up to 110 miles per hour and attempting to share tracks with freight.
The high-speed rail project is years behind schedule and has provoked near-unanimous opposition from Treasure Coast governments due to concerns ranging from public safety to costs to property values along the rail corridor. All the bad press and legal challenges have led to obstacles with funding, investors being leery not only of the company's sketchy business plan, but of sinking cash into an endeavor which seems doomed to be bogged down in tedious efforts to block the train.
Still, advantages the project enjoys are substantial, including historic federal protections and privileges and a well-funded lobbying team of seasoned government insiders. On the flip-side, the vast majority of residents in the train's path do not want the project, and local elected officials seem motivated to keep unleashing their attorneys and planners and engineers to throw up roadblocks and challenges whenever and wherever they see an opening to do so.
The legislative session opened two weeks ago and runs a total of 60 days. The bill, should it pass and be signed by Gov. Rick Scott, would take effect on July. 1.