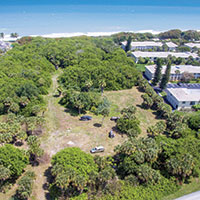 Shores reverses decisions it just made on beach property
STORY BY LISA ZAHNER

The Indian River Shores Town Council was set to meet Thursday morning to vote on whether or not to stick with its decision made two weeks ago to limit development on a 5.4-acre oceanside parcel to 15 units, or to revert back to the original zoning that would allow approximately 30 units in total.
Rather than ask the Town staff to make a recommendation beforehand, the council, in front of a packed chambers, last month listened to comments from the public and real estate agents, weighed its options on the fly, and settled on the maximum of 15 units for the prime development property.
After the vote, however, the council asked Town Manager Robbie Stabe and building official Jose Guanch to review what had been done to make sure it was in the Town's best interest and to report back.
Guanch "sent me a memo that included a staff recommendation that Council should basically let the Land Development Code do what it is designed to do," Stabe said Monday.
Based upon that memo, Mayor Brian Barefoot called a meeting of the council for 9 a.m. Thursday. A notice was sent by email to residents about the meeting, but with no backup information about what action was being considered, only saying the council intended to "revisit" the density issue.
Monday afternoon, the issue of a five-foot beach access was placed on Thursday's agenda to be re-opened as well. Town Clerk Laura Aldrich said Councilman Dick Haverland wanted it back on the table.
Barefoot said many local residents have taken an interest in the parcel now that an auction has been scheduled. He said some Pebble Beach Villas residents expressed concern about public access running directly behind their property. "They are also concerned about people parking along A1A as they do in other places," he said.
"We're going to put this thing to rest one way or another," Barefoot said.
If the original zoning, allowing for greater density, is restored for the property, that would likely be in the town's financial interest. With that zoning in place, the tract was appraised at $7.7 million, but it might be worth less if fewer units were allowed.
The higher density zoning would not necessarily mean 30 units would be built.
Guanch in his memo points out that any developer would need to surmount several hurdles to build on the property, not the least of which would be meeting the Town's stringent requirements designed to preserve the character and aesthetic of the community.