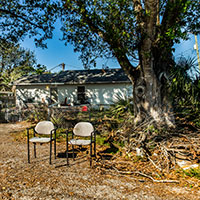 Unlivable rentals seen factor in slide into homelessness
STORY BY KATHLEEN SLOAN

The lack of low- to-moderate-income housing in Indian River County creates a desperate situation for many low-income renters, and some landlords exploit the situation, demanding big up-front deposits and then keeping the money when tenants move out because of unlivable conditions – a process that too often leads to homelessness.
Mark Titone of Titone Properties LLC, who lives in Central Beach, appears to be one of those landlords, according to non-profits that assist the homeless and county records.  His company owns 44 rental properties in the county and has brought nearly 70 eviction actions against tenants since 2010.
Court documents reveal a common thread. Many of the defendants claimed Titone promised to make a rental property livable, but never did. When they complained, he filed an eviction notice.
Most of the evictions were successful, the tenants fleeing instead of "answering" the eviction summons. With cash depleted and 'evicted' stamped on their record, finding housing becomes more difficult and the slide into homelessness closer. 
County code enforcement has cited Titone 55 times since 2009, mostly for trash, vehicles and appliances around buildings. There have been four citations for no building permit or licensed contractor. Indian River County Code Enforcement Chief Roland DuBlois said Titone usually complies within the deadline and therefore doesn't have to pay a fine, "but there have been a few fines in the thousands of dollars."
For the most part, county inspectors can't see serious problems and health hazards inside Titone's buildings, but Betty Beatty-Hunter, with the county building division, said tenants have filed substandard-construction complaints on six of Titone's properties since 2013.
County inspectors following up on the complaints cited dangerous, improper and exposed wiring, roofs caving in, carports and utility rooms illegally converted into bedrooms, bathrooms added without permits and not vented properly, washing machines dumping on bare ground and other infractions.
Louise Hubbard, executive director of the Treasure Coast Homeless Services Council, said homelessness is on the rise, in part, because of landlords who rent dwellings too poorly kept to pass federally-required inspections, a prerequisite for rent and utility subsidies, and who leave poor renters poorer through the use of Florida's strong eviction laws.
"We avoid these landlords, including Mark Titone, even though every single day we have difficulty finding an apartment affordable to the residents we are trying to help," Hubbard said. "Our experience is, since 2010, his properties do not pass inspection."
Robin Miller, Indian River County Rental Assistance Program manager, said, "There is a lack of affordable housing in Vero Beach and it's getting worse, especially for the elderly who get about $900 a month. We have a wait list of 556 individuals. But the property must pass our housing quality inspection."
Those tenants who "answered" Titone's evictions summons tell a similar story in court documents. Some also filed counterclaims or separate cases in small claims court. 
Andrea Archer responded to an eviction summons about six weeks ago. She said when she complained about a clogged toilet, Titone insisted she pay $350 to pump out the septic tank, which didn't fix the problem. She said she later learned a prior tenant had recently had the tank pumped out with the same lack of results, and says Titone knew it.
"I do want to move from here but this scam artist took my money from me and my kids to put us through hell and I feel my deposit (that I know he won't give me back, which is about $1,500) should be put towards the rent I owe and I will move out!" Archer wrote in court documents.
The court ordered Archer out Feb. 5 and Titone got to keep her deposit; he was also allowed to charge her another $195 to cover his court costs.
Caitlin Wymer sued Titone in small-claims court, Aug. 29, 2014. She, her husband and three small children never moved into the property they rented from Titone, because the house was never fixed. They paid $2,230 in first month's rent and deposit in May, with Titone agreeing to fix the property by June 1.
But Wymer claimed the roof still leaked as of July 12, and said there were holes in the floor, moldy drywall, a collapsed ceiling in one bedroom and no drywall and exposed wiring in another.
Wymer sued Titone to get her deposit back and then apparently settled with him out of court.
Cheryl Rawe sued Titone in small-claims court, Feb. 4, 2015. She paid $1,000 deposit for a friend who never moved in. Titone let the tenant out of the lease but wouldn't return the deposit. Rawe got court costs and her money back.
Elaina Spangler didn't fare as well. She complained of rats, roaches, mold and a "fecal smell" in the home she rented from Titone. She claimed in court documents there were holes in the walls, exposed electrical receptacles, faulty plumbing and three dwellings on one electric meter. 
"The money I have given him and the time frame will never make sense to me because he constantly tries to change the agreement, adding new deposits, which is illegal," she said in her response to the eviction notice.
"His property is not up to code and I am still waiting for the city's inspection . . . I have a nine-month-old child living with me and I had surgery March 4. I need to move but would like to ask for 30 days . . . the landlord tries to threaten and scare me."
She didn't get 30 days. Titone filed an eviction March 24, 2014, and Spangler was ordered out by April 14.
Landlords have a lot of power in Florida. In other states, it takes a judge's order to evict.  But in Florida, landlords can issue an eviction notice one day after rent is due, giving the renter the choice of paying up or moving within three days. Some tenants may be unaware they can fight the eviction.
There is little government oversight of landlord/renter relations in Florida, which has no state laws compelling local governments to conduct rental inspections. Indian River County recently passed a law requiring that "vacation rentals" with leases less than 30 days be inspected every three years. But there are no required inspections for rentals with long-term leases.
Code enforcement complaints can be made to both the county and city, but that only addresses violations that can be seen from outside.
Building-code violations inside also are complaint driven. Inspectors can only gain access if the tenant grants it. But few tenants can afford to take the time and effort to see a sub-standard building claim through, and they are often working against the clock. The streamlined eviction process might force them to vacate first, unless they also file on a landlord-retaliation claim. 
Contacted by phone by 32963, Titone provided his email address and was emailed a list of questions. He never responded.