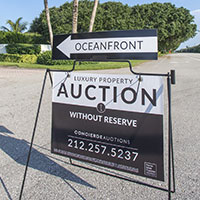 Another big sale in Vero's estate section
STORY BY STEVEN M. THOMAS

When the Barbados-inspired estate once known as Sandy Lane was auctioned off for $10.3 million at the end of April, the sale confirmed a couple of notable trends in the barrier island real estate market, including the growing role of auctions as a means of moving high-end properties.
It also highlighted the continued emergence of the Estate Section as a premier location where many of the biggest real estate deals routinely take place. The top five residential property sales in Vero since 2015 have all been in the Estate Section, and four of those have been auction sales.
Indeed, prior to the sale in April, the last time the 8-bedroom, 11.5-bath, 15,000-square-foot home located at 2070 S. A1A was sold – for $9.25 million in March 2015 – was also in connection with an auction.
At that time, Concierge Auctions offered two large side-by-side oceanfront homes built by Beachlen Development in a no-reserve, bidder's-choice auction. The winning bidder picked the estate known as Splendida Dimora, paying $10.2 million, including a 10 percent buyer's premium, but the other house went under contract within a few days, sold to one of the unsuccessful bidders who participated in the auction.
Since then, Concierge has auctioned off a number of luxury properties in Vero, all listed by partners Clark French and Cindy O'Dare, broker associates with Premier Estate Properties.
In March, the Premier/Concierge team sold an oceanfront estate in Indian River Shores for a little over $10 million. The success of that absolute, no-reserve auction helped build the residential real estate auction momentum and led directly to the April 28 sale of the lavish home at 2470 S. A1A. 
"After the successful sale of 10 Ocean Lane, we now have a new seller offering another significant oceanfront estate for auction immediately with no reserve," French said in March. "The property located at 2470 S. A1A in the Vero Beach Estate Section is a spectacular Barbados-inspired estate with a bright and open transitional beach house design."
"Sellers like auctions because they are in control," says Concierge project manager Katie Lawless, who led the auction team in the 10 Ocean and 2470 S. A1A sales. "They are not sitting around waiting for an offer that may or may not come. There is a date certain for the sale and no contingencies to worry about. It is a quick close and they walk away with cash."
Buyers like auctions because of the chance to get a desirable property below prevailing market value. They can name their own price and the process is transparent. In a traditional sale, the buyer doesn't know how much to offer or counter to get the deal, but in an auction they know exactly where the process stands and can bid just slightly over the previous offer.
French agrees with Lawless that home auctions are becoming more acceptable to both buyers and sellers. "The stigma is gone," he says. "For years, auctions have been the preferred way to sell fine art, classic cars and other high-end goods, and, increasingly, they are being seen as a smart way to sell luxury real estate."
Besides motivating another seller to go the auction route as a way of moving a $10 million-plus property, the sale of 10 Ocean in March generated a spillover pool of bidders for the Estate Section sale in April.
Many of those who considered 10 Ocean or actually bid on the property were new to Vero. Having focused on the area and in many cases visited here to see the house in Indian River Shores, they got a positive sense of the town and realized oceanfront real estate in Vero is a relative bargain compared to more expensive locales such as South Florida, Southern California and the Hamptons.
"There was a carryover crowd, for sure," French says. "Four of the bidders from the 10 Ocean auction participated in the auction at 2470."
Overall, the April sale generated 634 serious inquiries that led to 135 showings and winnowed out 48 qualified buyers. The eight who signed up to bid had to agree to Concierge's auction terms, put $100,000 into an escrow account and produce a bank letter showing they had sufficient funds to complete the purchase.
Some bidders came from Vero, others from around the country, with buyers from California, New Hampshire, Maryland and Miami participating.
The auction got under way at 4 p.m. on Friday, April 28, with four of eight registered bidders present at the property. The other four followed along by phone, with Concierge staffers raising paddles for them.
"It was a quick process, over in about 20 minutes," says Lawless, who led a team of 5 Concierge staff members and worked on the sale fulltime during the month of April, holding daily open houses, coordinating with Vero Brokers and their clients, and promoting the auction nationally and internationally.  "Bidding started at $5 million and went up in million dollar increments until it hit $8 million. After that, it went up in half-million and then $100,000 increments. We were down to three bidders after the amount topped $8 million and just two bidders after $9 million."
The "hammer price" was $9.2 million, but with a 12 percent buyer's premium, which compensates Concierge and the listing and selling agents, the buyer – a Vero resident – paid $10.3 million.
French says that is critical figure in establishing market value. Though it is divided into two portions, $10.3 million is what the market was willing to pay for the property in April 2017.
Both Lawless and French said the location of 2470 S. A1A was its strongest selling point. Bidders were drawn by the overall aura of Vero and more specifically by the privacy and convenience of the large 1.7-acre, ocean-to-A1A lot with 155 linear feet of frontage on the Vero's deepest ocean beach.
"In the Estate Section, you do not have to drive through a common gate or drive past other people's homes on the way to your house," French said. "That sort of privacy is very appealing to affluent buyers."
How attractive is the Estate Section?
Well, the seller at 2470 – identified by South Florida real estate magazine The Real Deal as "Trace McCreary, head of Varden Capital Properties" – is building his new house a stone's throw from the one he just sold.