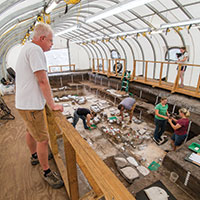 Funding for Old Vero Man dig site in question
STORY BY KATHLEEN SLOAN
Photo: Dr. Andy Hemmings watches over the Vero Man dig site.

The Old Vero Man Ice Age archeological site is closing down for the season amid serious concern whether sponsorships, grants and fundraising goals will be met in a manner that allows work at the world-renowned dig to resume next winter.
Because of the uncertainty, this season's close-down is being done with extra care, "in case we don't come back next year," said Dr. Andy Hemmings, lead archeologist at the site.
"I hate not knowing what's on the other side of where we found the camp fire," he added, referring to a find made this season.
Since 2013, Hemmings has been lead archeologist at the site, which has changed scientific understanding of human life in the Ice Age.  For the first two years, he and principal investigator Dr. James Adovasio worked under the aegis of Mercyhurst Archaeology Institute of Erie, Pennsylvania. 
When Mercyhurst pulled out, Florida Atlantic University's Harbor Branch and Department of Anthropology took over sponsorship of the site in partnership with the Old Vero Ice Age Site Committee.
The dig costs about $500,000 a year. Over the past two years the Florida legislature has approved grants totaling about $853,000, which the Old Vero Ice Age Site Committee has matched with about $150,000 in cash and in-kind services.
Hemmings said there is some money left over from those grants, which will be used to analyze the 500 bones found this year and 60 bones unearthed last year.
That leaves a $500,000 hole that needs to be filled before the site can reopen for continued work next year.
Harbor Branch and the Old Vero Ice Age Site Committee applied for the same state grant this year from the Division of Historical Resources, which is under the Florida State Department.
Hemmings said Secretary of State Ken Detzner has recommended the legislature fund all 87 project applications next year, but whether the recommendation will be followed by the legislature remains to be seen. Decisions about Division of Historical Resource funding will be made in June as part of the overall budget negotiations.
The Old Vero Site was ranked among the top 10 most-worthy projects the past two years but for some reason has fallen to 86th in line for funding this year – meaning that if any cuts are made, Vero Man's next chapter will be blank.
A federal grant is even more unlikely than the state grant, Hemmings said. "Under the current administration, federal grant money is drying up."
That leaves private fundraising as the most viable hope for a continuation of the Vero Man saga next season.
Hemmings said between 13,000 and 17,500 years ago, late Paleolithic people occupied the dig site near the county administration building, probably chosen because a pool had formed at the confluence of "three little creeks."
"It was a one-stop-shopping spot. They had water and they had food."
It would have been better if it were a stone-rich site too, because stone artifacts last and are prized by archeologists, but Hemmings said this season's dig did uncover two "bone artifacts," or human-worked bone, perhaps used for tools.
"We got lucky. It appears someone dispatched Bison antiguus on this site and had lunch."
Hemmings said the animal was probably a young bison, perhaps a female, but "that doesn't mean it was small. It was about 6 feet tall and weighed 2,000 pounds."
Hemmings' team discovered 500 bison bone fragments this year, mixed in with teeth and bones from fish and shark, as well as shells, which enriched the plot line beyond ancient man one-stop shopping and holding a bison barbeque, Hemmings said.
"This suggests they were bringing these aquatic and marine animals to the site," Hemmings said, "which was 3 feet uphill and 30 miles in from the seashore."
The ocean has covered about 12 percent of Florida's land mass since ancient times, Hemmings said, so the Vero Man site, first excavated in 1915 by State Geologist Dr. E.H. Sellards, is closer to the water now than it was 15,000 years ago. It's left to future digs to determine if a fishing trip to the ocean was something like a weekly shopping trip for ancient man.