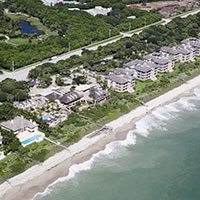 Orchid may double property tax rate
STORY BY SAMANTHA ROHLFING BAITA

Homeowners in the affluent Town of Orchid may see their property taxes almost double, from $1,250 per $1 million assessed value to $2,400, unless the Town Council retreats from a resolution it adopted at its May meeting.
The big proposed increase was prompted by the Council's desire to establish a reserve fund for emergency beach renourishment so that the Town will not have to borrow money for storm repairs, as it did in the aftermath of Hurricane Matthew.
When Matthew passed by offshore, a stretch of shoreline between Sanderling and Wabasso suffered an extensive dune wash-out, and the Town was forced to take out a $350,000 loan from the Orchid Island Community Association to fund repairs.
Over the years, previous Town Councils frequently discussed ways to fund emergency beach renourishment but never took any decisive action. 
The Town of Orchid is a unique residential community in that it has a relatively small population, almost all of whom reside within the gated community of Orchid Island Golf and Beach Club.  It has only two full time charter officers, the town manager and the town clerk, who carry out administrative tasks, plus a part-time police chief and a part-time building clerk. The Town largely relies on the property owners association and the club to provide municipal services. 
During council discussions, Vice Mayor Robert Gibbons emphasized the importance of ensuring the Town has sufficient funds to respond to another beach/dune emergency without having to borrow money. Council member Howard Thrailkill suggested that at least $400,000 would likely be needed for a future beach renourishment project. The most recent project came in at $375,913.
After studying several possible options, the Council agreed that building the emergency reserve "must be the Town's main goal for the upcoming fiscal year," and passed a resolution for a tentative millage increase from 1.25 to 2.4.
With 352 "front doors" in Orchid, and a current assessed taxable value of $411,627,920, the proposed rate would generate $938,512.  From that the Council, intends to make the first annual Matthew storm repair loan payment of $92,960 and place $360,260 in reserve. 
Because the Council will not have a physical quorum in July, Council members chose to adopt the resolution at this time in order to meet the County Property Appraiser's deadline for submitting budget information within 35 days after July 1.
The big increase, however, could be revised during town budget hearings in September.
The Sept. 6 millage and budget hearings are scheduled to take place at 5:01 p.m. at the Orchid Island Beach Club.