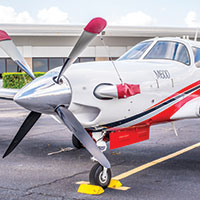 Piper's revenue up more than 60 percent in 1st quarter
STORY BY RAY MCNULTY

Business is thriving at Piper Aircraft Inc., which enjoyed a 26 percent growth in billings in 2016 and has followed up with increases in both new aircraft deliveries and sales revenue during the first quarter of this year.
Despite that success, however, the Vero Beach-based company – the largest private employer in Indian River County – has no immediate plans to hire additional workers or expand its local manufacturing facilities.
"At present, we are staffed accordingly to support the 2017 planned production," Piper spokeswoman Jackie Carlon wrote last weekend in an email from Switzerland. "As such, we don't envision a need for a significant increase in the work force.
"Additionally, our current facilities are capable of handling the current production rate and can handle growth beyond that which we are currently building."
Last week, Piper released its first-quarter performance numbers, which included 25 airplane deliveries through March 31. That's up 13 percent from the 22 deliveries during the first three months of 2016.
The most dramatic increase, though, was in new aircraft sales revenue, which jumped more than 60 percent from $14.3 million during the first quarter of 2016 to $23.4 million during that same period this year.
Piper attributed the growth to stronger demand for both its trainer aircraft and new flagship product – the sleek, versatile M600 – which debuted last year as the top-of-the-line airplane in the company's single-engine M-class series.
"While the M-class deliveries, in total, were level with last year, the addition of the M600 drove revenue up significantly," Piper President and CEO Simon Caldecott said. "We expect M600 sales growth during 2017 as aircraft demonstration tours continue and international type certifications are achieved."
Piper announced Monday it has received approval for the M600 from the European Aviation Safety Agency, a certification that coincides with the company's ongoing European tour, during which the turboprop aircraft has flown 55 demos and nearly 100 flight hours in six different nations and been on display at three trade shows.
"This is the fifth certification the M600 has received in less than a year from aviation authorities around the world," Caldecott said. "The European certification is a key milestone for the aircraft, which has garnered substantial interest due to the M600's range, payload and safety features, along with its outstanding operating economics."
The first M600 delivered under European registry is destined to arrive in the Czech Republic later this year.
On the trainer side, Piper delivered 19 aircraft during the first quarter of this year. Some were single-engine Archers, others were twin-engine Seminoles.
While an improving economy has been a factor in Piper's sales growth, Carlon said a "looming global pilot shortage" has produced an increase in demand for flight-training aircraft.
"Five years ago, Piper Aircraft anticipated that demand for trainers would increase, based on market forecasts provided by both Boeing and Airbus," Carlon wrote in her email. "At that time, Simon Caldecott committed to taking the strategic initiative to equip the Piper trainer products with the latest avionic equipment.
"Today, the products are competitively positioned within the market place, which has helped increase market share."
Carlon said 40 percent of the aircraft Piper delivered during the first quarter of 2017 were to customers from outside the United States.
Caldecott said the first-quarter numbers "gives us a good start on the year" and are an "encouraging indicator" of demand for Piper products, adding, "It also continues an upward trend that we saw in 2016."
The latest good news at Piper continues a reversal from recent conditions.
Two years ago, the company trimmed its work force from 760 to 645 through layoffs (78) and early retirement (37). In announcing plans for a work-force reduction in July 2015, Piper cited sagging first-quarter sales and economic uncertainty in the global marketplace.
Worldwide demand for Piper's products had slowed, especially in the European, Asian and Latin American markets – so much so that the company suffered its second consecutive quarter of declines in revenues, sales and deliveries.
Now, demand is back.