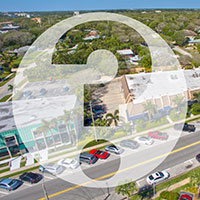 Restaurant rumors rife in Central Beach ahead of Council vote
STORY BY RAY MCNULTY

That buzz you're hearing in the Central Beach area?
It's the local rumor mill, churning out all kinds of gossip connected to the proposed construction of a fine-dining restaurant on Ocean Drive, whether The Tides will move there, and how longtime island restaurateur Bobby McCarthy will react if the City Council allows the controversial project to go forward.
"It's a small town," said McCarthy, owner of Bobby's Restaurant & Lounge, which opened in 1981 and immediately became the spring-training hangout for the Los Angeles Dodgers. "There are always rumors."
Maybe you've heard a few of them, particularly about this.
The first to get traction was that Leanne Kelleher, The Tides' owner and chef, had made a deal to move her popular restaurant from its Cardinal Drive location to a yet-to-be-built, 2,685-square-foot, 143-seat structure on Ocean Drive north of Beachland Boulevard, directly across the street from Bobby's.
She quickly clarified the rumor, saying that although she was engaged in discussions with representatives of the Coral Gables-based investment firm that plans to build the new restaurant, nothing had been finalized.
That was two months ago – after the city's Planning & Zoning Board approved the project and before McCarthy filed an appeal, asking the City Council to overturn the board's decision because a new restaurant would make worse an already-challenging parking situation along Ocean Drive.
The rumor last week?
According to the beachside buzz, Kelleher's circumstances had changed, prompting her to reconsider moving The Tides to Ocean Drive and, instead, stay in her present location.
Upon hearing this one, Kelleher became annoyed.
"I don't know where people get their information," she said. "It's getting really frustrating to constantly hear this stuff. Do you know how many rumors I hear every single day? The other day, I heard I was moving to Miami."
For the record: Kelleher said she has no plans to leave town, nor has she decided to stay on Cardinal Drive.
"I haven't decided anything yet," Kelleher said, though she admitted that she continues to talk to representatives from Sony Investments Real Estate Inc., the company that owns the proposed restaurant site.
"They're going through their process and doing what they need to do," she added. "When they're done and everything is set, they'll tell me. Then I'll decide what I'm going to do."
The City Council is scheduled to hear McCarthy's appeal – he filed the papers, but he has the support of several Ocean Drive merchants, all of them concerned about the parking shortage in the Central Beach business district – at next week's meeting.
McCarthy wants the council to halt, or at least delay, the restaurant project until a solution to the parking problem is solved. He said he addressed the Ocean Drive parking issue for about 15 minutes during the city's Vision Plan workshop last week.
"I've been here for 35 years, and I've watched the landscape along Ocean Drive change, usually for the worse," he said. "We have a parking problem and nobody wants to deal with it, so a bad situation just gets worse.
"They say the plans for this project adhere to the city codes, but the codes are antiquated," he added. "You can't tell me that this restaurant won't have a huge impact on parking."
City Planning Director Tim McGarry, who recommended the P&Z Board approve the project, said the plans do not violate the city codes and that he will make same recommendation to the City Council.
"Nothing has changed," McGarry said. "The appeal raises eight or nine questions, but there are sound answers to all of them. The fact is, based on our codes, there's no reason to deny the project. If we do, I'm pretty sure we'll end up in court.
"I agree that we need to take a look at the codes," he added, "but that's not going to stop this project."
Vero Beach attorney Bruce Barkett, who represents Sony Investments Real Estate, said he will attend the Council meeting and address the questions raised in the appeal.
In the meantime, the rumors continue.
The latest?
Kelleher said she has heard that McCarthy was exploring the possibility of buying the Super Stop convenience store property at Cardinal Drive and Camelia Lane, where he would build a new home for his restaurant.
"Why don't you look into that one?" she said.
McCarthy said he had, indeed, received a phone call from one of the property's owners, asking if he would be interested in partnering up to buy it – but the price was too high.
He said he's in the process of renewing his lease on the Reef Ocean Resort property.
"I'm not looking to go anywhere, and I won't be surprised if Leanne ends up staying where she's at, too," McCarthy said. "People know her. They know her restaurant. They know where she's located. She does a really good business.
"And I hear she can work out a deal to stay there, so . . ."
More grist for the mill.