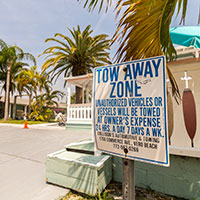 The Islander Inn has dibs on disputed parking spots
STORY BY RAY MCNULTY

You know those parking spaces on Camelia Lane, along the south side of The Islander Inn?
The angled, on-street pull-in slots with the words "ISLANDER MOTEL PARKING ONLY" painted on the curb? The ones with the "TOW AWAY ZONE" signs posted along the sidewalk?
They really do belong to The Islander.
Actually, Vero Beach owns the ground,  but the seaside motel has had the rights to those spaces for nearly 30 years.
"Back in 1986, when the city made street improvements in the area, re-paving and putting in curbs and sidewalks, The Islander lost a portion of its parking area," City Manager Jim O'Connor said. "So in exchange for taking that property, the city granted the motel exclusive rights to 12 parking spaces on Camelia Lane.
"So in essence," he added, "the spaces are theirs." And as long as the property continues to operate as an inn, the business will retain the rights to the parking slots, which do not include the two easternmost spaces.
Apparently, though, not everyone knows about this arrangement.
Mary Jane Moreton, who manages the 16-room motel with her husband, Doug, said she has had to chase away drivers who either didn't see or ignored the painted curbs and tow-away signs.
Some of them have told her they didn't realize the spots, because they're on a public street, were reserved for hotel guests. Some have said they didn't notice the warnings.
"I've had people pull up right in front of the tow-away signs," Moreton said. "I ask them, 'Do you see that sign? Do you see that motel?" They say, 'What motel?' A lot of times, they're here on vacation and just don't know."
"I tell them, 'Move your car or you're going to get towed,' and they move their cars," Moreton said. "We've been here for 12 years and I've never had anyone's car towed.
"I don't have trouble with people; I try to work with them," Moreton said. "If someone is taking their kids to Kilwin's for ice cream or even having lunch at the Lemon Tree – if they're only going to be there for a short time and we're not filled up – I don't say anything.
"I've been kind about the whole situation," she added. "But I can't have someone park there and go to the beach for six hours. I need those spaces for my guests."