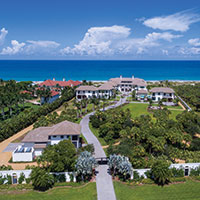 $45 million house on South Beach going to auction
STORY BY STEVEN M. THOMAS

The barrier island has seen some impressive residential auctions in the past few years, with oceanfront properties going for $10 million or more, but that is nothing compared to what's coming on Dec. 13, when an 18-bedroom, 23-bath house on South Beach currently listed for $45 million will be sold in a no-reserve, absolute auction.
"We don't know what the house will trade for on that day, but it absolutely will sell on that date," says Clark French, who works for both Concierge Auctions and Premier Estate Properties and is the lead broker on the sale, sharing the listing with partners Cindy O'Dare and Richard Boga.
The estate, which encompasses 27,588 square feet of air-conditioned living space and has more than 40,000 square feet under roof, was completed in late 2015. It sits on a seven-acre parcel with 315 linear feet of ocean frontage and includes a massive main house, two guest houses, a gatehouse/caretaker's cottage, and a pool larger than the pool at the Vero Beach Hotel and Spa.
"This one is really something special," says French. "It is one of the most significant estates in Florida."
French emphasizes the "smart house" and energy-efficient features of the home. "The estate was designed to operate efficiently whether there are four people in residence or 40," he says. "Different buildings and sections of the main house can be turned on or off, depending on use."
The property is being marketed coast to coast and internationally. It will be open for qualified buyers to tour from 1 p.m. to 4 p.m. daily between now and the auction date, and by appointment.