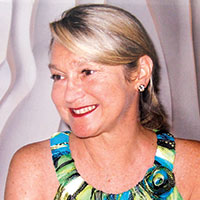 Jennifer Benjamin: Pet columnist
STORY BY A STAFF WRITER
Photo: Jennifer Benjamin

Jennifer Benjamin, a dog lover who originated the pet column in Vero Beach 32963, last week lost a valiant four-decade battle with type 1 diabetes.  She was 53.
Jennifer, daughter of 32963 publisher Milton Benjamin and his wife Tina, moved to Vero Beach from Washington, DC, in 1996 after undergoing a pioneering kidney-pancreas transplant.
That time, after being medevacked on a snowy winter night from Georgetown Hospital in Washington to the University of Wisconsin Hospital in Madison where the operation was performed, she was hospitalized for more than eight months, much of it in the ICU.
In the decade after the transplant, however, she tenaciously fought her way back to health sufficient to enable her to work as a volunteer victim's advocate with the State Attorney's Office in Vero.
But residual diabetic complications from a disease that blind-sided her in her mid-teens took a cumulative toll. She was constantly in and out of hospitals.  In 2007, toxic antirejection drugs began to kill her transplanted kidney.  In 2008, a clot in an artery cut off the blood supply to her transplanted pancreas. Once again, she was a late-stage diabetic in kidney failure.
Miraculously, however, in September 2009 the University of Miami Transplant Center found her another kidney and pancreas – an amazing story chronicled in the Oct. 15, 2009 edition of Vero Beach 32963 and reprinted in the Miami Herald and other papers.
She again rebounded after another 45 days in the hospital, and it was during this period that she began writing the 32963 pet column, first featuring her beloved English springer spaniel Coco, and later Coco's young assistant, Bonzo.
Meeting the pets she wrote about, and their humans, brought great joy to Jennifer.  But an all-too-brief respite in her medical travails came to an abrupt end in July 2014, when she suffered a near-fatal stroke. 
The past three years have been a ceaseless battle that long-since would have claimed a less indomitable spirit.  Once again, she was in kidney failure.  But Jennifer never gave up.  During good periods, as recently as July, doctors were offering encouragement about the chances for a third transplant. There were, however, too many bad periods.  In the end, type 1 diabetes, as it generally does, won the final round.
Jennifer leaves her parents; Bonzo, her first-responder who summoned help nights when she needed assistance; and aunts, an uncle, cousins, nieces and nephews in California and Massachusetts.
She was particularly grateful for the care and encouragement she received in recent years from her primary physician, Gerald Pierone Jr.; her University of Miami transplant surgeon, George W. Burke III; vascular surgeon W. Clark Beckett; too many other fine IRMC doctors and nurses to list; and her private nurse and companion these past two years, Gail DeGioia.
Services for Jennifer were private.  In lieu of flowers, please consider a contribution in her memory to the nonprofit clinic run by Dr. Pierone, the Whole Family Health Center, 981 37th Place, Vero Beach, FL 32960.